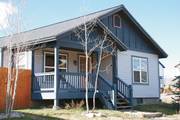 Steamboat Springs — The house at 2381 Penny Lane in West End Village is listed for sale well below the prevailing "price of admission" for single-family homes within the city limits of Steamboat Springs. Yet, it's been waiting for months to sell.
What gives? The owner of the house in West End Village needs to find a prospective buyer who makes no more than about $87,000 and whose net worth is less than $270,000 to meet the affordable housing deed restrictions placed on the home.
The three-bedroom, two-bath modular includes an over-sized, stick-built two-car garage. It is listed by Realtor Colleen de Jong at $329,00. The home was originally listed for $347,000 by another Realtor. The price reduction has resulted in increased traffic, de Jong said, but so far, no buyers.
De Jong, said she uses an "attainability" chart prepared by the Routt County Planning staff to understand how they can qualify for and afford the home. A family of four at 120 percent of the annual median income for Routt County would be able to purchase the home either with 90 percent or 100 percent financing.
"I think the interesting thing is that he's having a hard time selling it," de Jong said. "People expect, in this environment, to get appreciation. I think some people don't understand the deed restrictions."
Her client has owned the home for just 12 months, de Jong said, and, at that price, he will pay his Realtor fees and break even. Owners who plan to live in their homes for 7 to 10 years have a better chance to see their investment grow, she said.
So why hasn't it been snapped up?
The Realtor thinks some prospective buyers are deterred by the deed restrictions meant to ensure affordability.
"It's definitely a cute house, and it will work for somebody," she said. "There is equity built in. And you can get other benefits, like a county tax write-off."
The home has wood and vinyl siding, all appliances, a satellite dish and receiver, natural gas forced-air heat, a gas log fireplace in the living room and a wood fence. There is a covered porch at the front entrance to the home.
The deed restriction in West End Village required that the owners must be year-round residents of Routt County who are working here. Retired people are eligible under certain circumstances.
The owners must use the deed-restricted homes as their primary residence - buyers would qualify if they vote here or their driver's license is registered here, for example.
De Jong came close to selling her client's home this fall, but the buyers opted instead for a nearby West End Village home on Savoy Place that was priced at $299,900. It offered some upside in its unfinished basement, she said.
De Jong said her client would have been in a better position to realize appreciation on his home investment if he had been able to live in it longer, but his life changed, dictating a change. She continues to think that deed-restricted affordable homes will fill an important niche in the marketplace in the future.
"There's a little bit of 'pay it forward' involved," she said. "I think eventually the system will work when our (housing) prices go higher."
De Yong can be reached at 879-8100, ext. 437, or 846-5569.