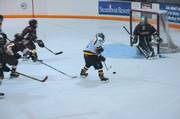 Steamboat Springs — Amidst football playofs and the beckoning of the winter season for high school sports, three local youth hockey teams opened up play on Friday in the seventh annual Rocky Mountain Rumble at Howelsen Ice Arena.
Two teams - the Steamboat Springs Bantam B team and the Squirt B team - lost close opening games. The Pee Wee B team cruised to a 5-0 victory against Northern Colorado Youth Hockey.
In the first game of the year for the Bantam B team against Littleton, a team that had already played 11 contests coming in and won a tournament earlier in the year, Steamboat looked like a team in early season form.
Steamboat goalie Connor Brown was bombarded by 24 shots during the first two periods but managed to make 21 saves. Steamboat finally mounted an attack midway through the second period when Skylar Martin scored off of a faceoff in the Littleton zone. The goal gave Steamboat momentum as they out shot Littleton, 9-6, in the last period. Still, the margin was too much to overcome as the Bantam B team fell, 3-1.
"For our first game of the year, it went really well," coach Glen Martin said. "(Littleton) is a really good team."
In one of the most entertaining games of the day, the Steamboat Squirt B team lost, 5-4, to Denver University. With Steamboat trailing 2-1 through two periods, the teams combined to score six goals in a matter of five minutes. After Denver took a 4-2 lead, Patrick Milne and Jackson Perry scored two goals 15 seconds apart to knot the score up at 4-4. But, two minutes later, Denver scored the game-winning goal on a scramble in front of the net.
Milne and Perry led Steamboat with two goals each.
"We got really tired," Milne said. "We lost it in the last period. They got a lucky goal where our goalie couldn't find the puck. We can still get a banner to hang up, though. I think it was a successful loss."
In the final Steamboat game of the night, the Pee Wee B team dominated Northern Colorado Youth Hockey, 5-0. Steamboat got it going in the second period, when Preston Davies scored on a rebound. After that, Steamboat used goals from Hannah Samlowski, Sam Samlowski and Alexander Elliot to build an insurmountable lead. In the final period, Sam scored one of the prettiest goals of the day. He took the puck at the blue line, weaved around a defender, juked two more and went top shelf to finish the job for Steamboat.
"We had a lot of confidence," Sam said. "It just carried over from our previous games."
All three teams continue play today. The Squirt B team's first game is at 9 a.m., while the Pee Wees play at 11:30 a.m. and the Bantams play at 12:45 p.m.