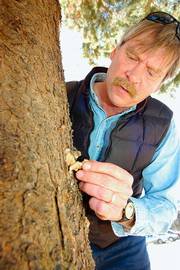 Steamboat Springs — Bark beetle infestations are not just in rural areas of Routt County; beetles also are feeding on pine trees in Old Town Steamboat Springs.
C.J. Mucklow, executive director of the Routt County Cooperative Extension Office, said a local tree maintenance worker found a lodgepole pine tree infested with mountain pine beetles just two weeks ago, on Oak Street two blocks east of the Routt County Courthouse.
"This is a growing concern, and people need to be aware of it," Mucklow said.
Bark beetles have devastated huge tracts of forest in Northwest Colorado in the past decade.
Bark beetles burrow into the interior, cambium layer of tall, mature pine trees, feeding on the tree while cutting off its circulation systems for water and nutrients, similar to clogging a human artery or windpipe, and essentially strangling the tree. Thousands of beetles infest a tree at the same time. Each beetle is no larger than a grain of rice.
Mucklow said while the spruce beetle infestation "has peaked," an infestation of mountain pine beetles is going strong.
Mucklow said Friday that property owners should check their pine trees before the winter, to get a head start on planning how to fight infestations next spring.
"I just want to make people aware that hit trees don't turn red for a year," Mucklow said. "You should be looking to make sure those mature pine trees haven't been hit."
Mucklow said beetle infestations can be identified by "pitch tubes," or holes about the size of a pinky finger burrowed into a tree's bark and often filled with pitch.
"If you have that, the tree is as good as dead next summer," Mucklow said. "We really encourage you to take that tree down by next July, so we have less adult beetles flying next summer."
Mucklow said healthy trees can be protected by insecticide use next spring.
In recent years, spruce and mountain pine beetle infestations have affected local areas including Hahn's Peak, Steamboat Lake, Mad Creek, Old Town Steamboat Springs, Steamboat Boulevard, Burgess Creek Road, Anglers Drive, Morrison Creek, Steamboat II, the Steamboat Ski Area and Gore Pass.
The Routt County Cooperative Extension Office can help landowners identify beetle infestations and give options for control.
Call the extension office at 879-0825.
- To reach Mike Lawrence, call 871-4203 or e-mail mlawrence@steamboatpilot.com