Past Event
Sunday, December 10, 2006, 6:30 p.m.
(One-off place), Chicago, IL
All ages / $53
Past Event
Sunday, November 26, 2006, 6:30 p.m.
(One-off place), Chicago, IL
All ages / $53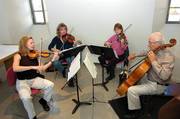 Legendary composer Ludwig van Beethoven was beaten by his father, had no relationships with women and lost his hearing.
"Ninety-nine point nine percent of people would never go near music after that," said John Sant'Ambrogio, a cellist in the Steamboat String Quartet.
But Beethoven overcame those challenges and created some of the most beautiful and timeless music ever made. The Steamboat String Quartet will play selections from the early, middle and late periods of Beethoven's career during a series of three dinner concerts at Harwigs/L'apogee.
"You can hear in his music all the feelings and emotions coming through," said Bonnie Murray, violin player for the Quartet. "That's why we are doing all three periods."
The group also will play music by Mozart, Haydn, Tchaikovsky, Mendelssohn, Borodin, and Dvorak.
"They represent who influenced him and who he influenced," Sant'Ambrogio said.
The upcoming concerts represent the second series of dinner shows the Quartet has performed at Harwigs/L'apogee. Quartet members say their goal is to make classical music more prominent in the community.
"We do it because we love doing it. There is nothing like playing this music," Sant'Ambrogio said. "The gift of music is one of the greatest gifts ever given to us, and this is one way to make it accessible."
Harwigs/L'apogee's intimate dining room creates a more powerful experience than the typical chamber music venue, said violinist Teresa Steffen Greenlee.
"It's very satisfying to be in a room of people who are in awe of the greatness of what you are playing and be touched by it," Steffen Greenlee said. "It becomes almost a mission when you feel so passionate about something and want to share it."
"The classical music scene in this town is blossoming in ways I never imagined," Sant'Ambrogio said.
The goal of the members of the Quartet is to expand their programs to inspire children and to teach and play for the audiences of tomorrow.
"The bottom line is, we are here to stay, and we want to incorporate the program to include children's audiences," said Mary Anne Fairlie, viola player. "And by playing where we are in Harwigs - in a small room and chamber setting - it is meant to be an experience. A program like this can touch audiences in a way you can't when they are watching a quartet on stage."