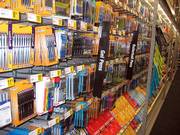 Murder-mystery party
Harper Dinsdale. That was my murder-mystery party character.
She was described as being a "stranger to most. Likes gambling and gamblers."
I interpreted that to mean big hair, dark eyes, burgundy lipstick and fishnet stockings.
I guess it wasn't really that different from who I am.
If you have never gone to a murder-mystery party, I highly recommend you find one to attend, or host one yourself. It was an enchanting and challenging evening complemented with plenty of wine and, most intriguing, the whodunit puzzle.
After about four hours, I couldn't function. I forgot my character's personality quirks and I sat on the couch to observe while eating cheese chunks and bacon-wrapped water chestnuts.
In the end, dressing up as a gambling hussy and trying to talk to 40 other people who are dressed up and talking in character was a blast. I had a good time taking notes (like a good reporter) and had an even better time listening to people talking in their best British accents.
- Alexis DeLaCruz
Sit down and listen up
Holden Young hoped to deliver an original musical performance that was a sit-down affair in an intimate venue Friday night.
From behind the bar in the baggage room of the Depot Art Center, I saw a full house and a mission accomplished.
People of all ages gathered for an authentic collaboration of local musicians, including Scott Glackman on the didgeridoo, Billy Franklin on the guitar and Carolyn Berns on the violin.
The Depot was the perfect setting - accentuated with lamps, candles, tapestries and chairs from Young's living room - for people to come together to experience music.
His performance already has sparked ideas for future acoustic performances to further Young's vision.
- Allison Plean