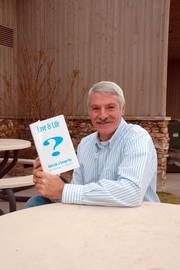 As a teenage boy, Cesare F. Rosati quickly figured out that the jocks got all the girls.
"I went out of my way to get a letter sweater," Rosati recalled. "It was a big deal, so I went out and got a letter in cross country."
Life lessons such as that helped Rosati write "Love & Life: Advice for a Teenage Boy." The collection of poetry was published recently.
The poems in the book never take up more than a page - you have to accommodate a teenager's short attention span, Rosati said. His advice is written in straightforward language and is loaded with humor.
Rosati has been writing poetry for nearly 50 years.
"It's always been my first love, as far as writing goes," he said.
His book-signing event coincides with Off the Beaten Path Bookstore's next poetry slam, both of which take place Thursday.
Rosati has read many of the poems from this book - which he completed in 1998 - in poetry slams and has received good responses from teenagers, he said.
Although it has been a long time since he was a teenager, the themes and lessons of adolescence haven't changed.
"When we went to school, alcohol was our problem. Now they have to deal with drugs," Rosati said. "We had switchblade knives, and now they have weapons. But a weapon is a weapon. There will always be good guys and bad guys and two guys falling for the same girl - it's universal. The underpinnings of human nature are the same."
His favorite poems are the ones bestowing advice from a bartender, an artist and a lawyer regarding dating, marriage and occupation.
Rosati said his book also gives advice young men might not accept from their parents, but his audience shouldn't be limited to the male gender.
"I think teenage girls would like to know what teenage boys are being told about them," Rosati said.