If you go
What: First National Bank of Steamboat Springs partnering with Ace at the Curve present the 12th annual Festival of Trees at the Tread of Pioneers Museum
When: 11 a.m. to 5 p.m. Nov. 11 to 19, and 131 a.m. to 4 p.m. Nov. 20
Where: Tread of Pioneers Museum, 800 Oak St.
Cost: Free to Routt County residents with ID
Call: 879-2214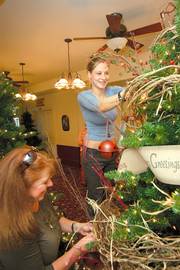 Steamboat Springs — Local organizations are about to put their best trees forward.
Twenty-six Christmas trees will be decorated by nonprofit organizations and businesses for the 12th annual Festival of Trees fundraiser. The event is a fundraiser for the Tread of Pioneers Museum, and the trees will be on display there from Nov. 11 to 20.
Friends of Emerald City Opera members are decorating their tree this year with the theme of Madame Butterfly, which is an opera they will perform in August 2007.
"It is the tragic love story of a Japanese geisha and her American paramour," said Candice Lombardo, executive director of the Museum. "When nonprofits get involved, they can show their missions, upcoming events and projects."
Historic Routt County! is a newcomer to the festival. The group's theme will focus on historic preservation. Old Town Hot Springs' tree will represent the downtown hot springs pool from the past and the present. And the Bud Werner Memorial Library's tree will highlight its recent newspaper digitization project.
After the 10-day public viewing period, the trees will be delivered to their sponsoring business in time for Thanksgiving and the busy Christmas shopping season. Each sponsor will choose a tree on Monday. A random draw decides the selection order.
The trees are purchased for $500 each.
"The money from this fundraiser helps support ongoing preservation and education activities here at the museum," Lombardo said.
The public will be able to vote on the People's Choice Award throughout the viewing period. A photo of the chosen tree will be published in the Steamboat Today, and the organization that decorated it will receive a handmade wreath.
Lombardo said the Festival of Trees is always a popular event that brings in 50 to 100 people each day.
"It's also a great time to see the historic Zimmerman house decorated for the holidays," she said.
- To reach Allison Plean, call 871-4204 or e-mail aplean@steamboatpilot.com