Allison Plean
Allison Plean's column appears Fridays in the 4 Points arts and entertainment section in the Steamboat Today. Contact her at 871-4204 or e-mail
aplean@steamboatpilot.com
.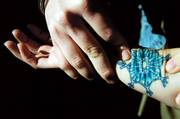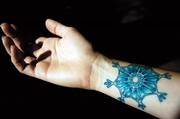 There is one statement you dread hearing when toying with the idea of getting a tattoo. And you know you will hear it.
"Think about being an 80-year-old snowflake queen," my best friend said to me last week.
But it was too late. My decision - and the appointment - already was made.
I stared at the inside of my right wrist (where a large snowflake would soon appear) all day Saturday until I went to the tattoo shop, which nowadays looks more like a day spa.
The piercing apprentice was practicing Jazzercise moves, and I stared at tranquil Koi fish while my tattoo design was sketched.
Tattoo artist Cody Lee also graciously defended my right to hook up my iPod so I could listen to my big-hair bands. I was getting a "new school" tattoo, but the "old school" in me needed my Guns N' Roses and my entourage of curious friends.
Of course, everyone who already has a tattoo has advice for you - almost all of which didn't apply. It didn't hurt worse the next day, and it hasn't made me think about getting another one.
I'm not going to lie. I'm not 100 percent sold on my tattoo yet. It's going to take some time to get used to it. I imagine it feels like buying anything that is semi-permanent - like a house, a car or a Macaw that can outlive you.
By getting a tattoo, you are buying original, one-of-a-kind artwork that you can't hang crookedly on the wall or lose, break or sell. It's yours forever.
For-ev-er.
The most common fear about getting your first tattoo, Lee said, is the physical pain.
It didn't really hurt at first, and I wasn't just trying to act tough (well, maybe a little bit). But the pain came with a vengeance as soon as the excitement began to wear off. And the worst part was yet to come.
I went to City Market and walked into the lotion aisle with confidence. I was just going to grab the first bottle of Lubriderm, Curel or Jergens - like I was instructed to do - and check out.
But it wasn't going to be that simple. We have way too many options on the shelf.
Did I want advanced therapy, ultra healing, age-defying, skin smoothing, skin firming or daily moisture with SPF 15? I knew it was supposed to be alcohol- and fragrance-free, but each one had some form of cetyl or benzyl alcohol, and the one I bought ended up having fragrance that somehow appeared in the ingredients two days later when I re-examined the label.
Panic!
I was already plagued with future job interview stress and the dread of parental disapproval. Now I had the wrong lotion. (Not to mention that any lotion smells good to my dog, who is constantly trying to lick it off.)
What's a first-timer to do?
I've learned that all you can do is step back and look at the big picture.
To me, this tattoo symbolizes everything that made me fall in love with Steamboat.
The first time I came here, I spent the entire day trying to imagine what the town would look like covered in snow. Now I'm staring at my tattoo, wondering what it will look like in two weeks when Lee adds the white ink.
As I hope will happen with my tattoo, my transition to Steamboat featured delayed gratification. Within one week of moving here, two of my friends got arrested, my roommate broke my Brita, I totaled my new car and I broke my foot.
Last week, when my best friend told me to think about being an 80-year-old snowflake queen, I immediately told her I'd be the coolest old bag in the old folks home.
So my entourage and I celebrated my new artwork by going to the Double Z (where I was not the only one with a tattoo). And the next time I go to the lotion aisle, I'll pick out the age-defying moisturizer.