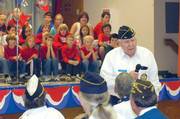 Steamboat Springs — Fifth-grader Danny Kramer is too young to know much about war, heroism or sacrifice. But the Soda Creek Elementary School student knows what Veterans Day means to him.
"It's a time to support our country," Danny said.
Veterans Day is Saturday, but the fifth-graders at Soda Creek celebrated the holiday early with an hour-long tribute to Routt County veterans Wednesday.
The fifth-graders sang, performed a ceremony with military flags and publicly thanked area veterans for their service to the United States.
Veterans of all ages and war experiences attended Wednesday's event.
"We are proud of our veterans," the fifth-graders sang. "Thank you."
The veterans returned the favor, standing and thanking the children for a touching service highlighted by poetry readings, patriotic songs and the display of each military branch's flag in Soda Creek's gym.
"I think this is where patriotism starts," said John Long, who served in the Marine Corps from 1967 to 1973.
Long wore a Marine Corps hat and belt buckle to Wednesday's service. He had attended last year's performance and expressed gratitude for the children's presentation.
The service featured an added touch when the Marines veterans in attendance demonstrated their traditional cake-cutting ceremony in honor of the Nov. 10 birthday of the Marine Corps.
John Rezzonico was the youngest Marine in attendance Wednesday. He returned from Iraq eight months ago, but he has been serving in the Corps since 1989.
As a relatively young veteran, he said Wednesday's program was emotional.
"It was really hard to watch," said Rezzonico, who was in military intelligence. "It hits home."
Teaching children about patriotism through singing, laughter and fun is what being an American is about, he said.
In fact, he suggested that the Soda Creek fifth-graders send a videotape of Wednesday's performance to servicemen and servicewomen overseas.
"The best stuff is from the kids," Rezzonico said.
Soda Creek music teacher Amy Larson organized the program, but elementary school parents and teachers helped make the day successful, she said.
She estimated twice as many veterans showed up Wednesday compared to last year's program.