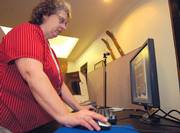 Steamboat Springs — County officials said Wednesday that more electronic voting machines and more vote centers will be needed for future elections in Routt County.
"It's quite evident, especially in a (2008) presidential election, when you could have twice the amount of voters we had this year, that we're going to have to go with more vote centers," Routt County Commissioner Doug Monger said.
On Tuesday, thousands of Steamboat Springs voters waited as long as four hours to vote in the midterm election that resulted in sweeping Democratic victories across Routt County, the state and the nation. Because vote centers in Hayden, North Routt and South Routt were far less crowded than those in Steamboat, many Steamboat voters drove outside of city limits to cast their ballots, creating lines and voting delays across the county.
A total of 7,845 Routt County voters participated in the election. Of those, about 3,800 voted by early or absentee ballot, meaning about 4,000 voters shared the 35 voting machines distributed among eight vote centers.
Mechanical problems shut down several of the machines for an hour or longer, further increasing delays and lengthening lines.
Election judges and poll watchers said many people left vote centers without casting a ballot.
"A lot of people left," Routt County Clerk and Recorder Kay Weinland said Wednesday. "Many people who stayed waited four hours to vote. That should not have happened, but it did, and we learn from it. I don't take that lightly."
Weinland said Monday that the county's 35 machines surpassed recommendations by manufacturer Hart InterCivic as well as the number of stations required by law. More vote centers, more machines and more training for election staff and volunteers will be needed in the future, she said. Additional vote centers would be located in Steamboat Springs, Weinland said.
Weinland met with Monger and Routt County Commissioner Nancy Stahoviak on Wednesday to begin discussions about budgeting for more machines.
"They absolutely know that we have to ramp this up," Weinland said. "Everything we do we have to do with budgets in mind, but at the same time, we have to balance that with service to voters."
Weinland said each Hart InterCivic electronic voting machine costs $2,500, plus $1,000 for a printer that records each ballot cast. In addition, a central computer, or "judge's booth controller," is required at each vote center at a cost of $3,500 apiece.
Monger said the electronic machines are required by the Help America Vote Act, or HAVA, which President Bush signed into law in 2002. Monger said the county has spent $145,250, in addition to a grant of $140,750 from the Colorado Secretary of State's Office, to meet HAVA requirements.
"It'll take more taxpayer dollars for new machines," Stahoviak said. "We can thank the federal government for that. Once again, we get an unfunded mandate."
Weinland said local schools such as Steamboat Springs High School and Steamboat Springs Middle School could be ideal locations for future vote centers. Although Weinland stressed that she has not yet discussed the idea with Steamboat Springs School District officials, she said schools could provide ample parking and facilities for a larger vote center.
Each central computer can handle as many as 12 voting machines. On Tuesday, the largest vote centers had six voting machines.
"We have lots of opportunity for expansion," Weinland said.
She also suggested that if the school district could plan to use Election Day as one of its monthly "Curriculum and Instruction Days," which provide planning time for teachers while students have no school, the school facilities would be available, and more students could participate as election judges.
Sixteen high school students manned laptops and helped verify voter registration at vote centers Tuesday.
"They were awesome," Weinland said.
Weinland said she and her Clerk and Recorder's Office employees decided against preparing a back-up system of paper ballots to be used in the event of mechanical failure.
"We didn't have a paper back-up," Weinland said. "We chose not to go that way. Logistically, it would have been extremely impractical."
Weinland said because of the new "vote center" system, in which a Routt County voter can vote at any one of the county's eight centers, paper ballots would have required preparing seven different ballots to accommodate the different issues voters decided on, depending on where they live. Such a system would have created a "large margin of error" for election staff, who would have been asked to sort and properly distribute paper ballots, Weinland said.
Reviews and audits of Tuesday's election begin today.
Weinland said she has scheduled a random test of the electronic machines today, in which votes in two randomly selected races from two randomly selected machines will be hand-counted to verify computer accuracy.
Colorado Secretary of State Gigi Dennis provided Weinland with the serial numbers of the machines to be tested and the races from which to count votes.
Weinland will conduct the test with Lynn Abbott, secretary of the Routt County Democratic Party, and with an as yet undetermined Republican representative.
On Nov. 17, Weinland will conduct a "canvass" of the election with Abbott, Steamboat Springs City Clerk Julie Jordan, and Jennifer Schubert-Akin, chairwoman of the Routt County Republican Central Committee.