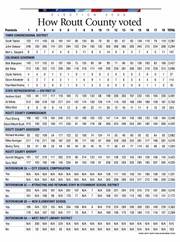 Election 2006
More Election 2006 stories
Steamboat Springs — State Rep. Al White, a Winter Park Republican, cruised to re-election Tuesday night in House District 57, which includes Routt County.
White defeated Democratic challenger Andy Gold of Tabernash. White held a strong lead late Tuesday night across the Northwest Colorado district's six counties, which include Garfield, Grand, Jackson, Moffat, Rio Blanco and Routt.
White earned 49 percent of Routt County's votes, and Gold received 46 percent. White's votes represented a rare victory for Republicans in a county that voted largely Democratic.
"I'm very proud and pleased about that," White said Tuesday night. "I think it's very indicative of the Routt County electorate recognizing I do not work on a partisan basis. I work on the best interests of the citizens in House District 57."
White had substantially larger leads in Moffat and Rio Blanco counties.
White said he especially appreciated the widespread support on an election day that saw significant Democratic victories across the nation and in Colorado. Democrats gained control of the U.S. House of Representatives, and Bill Ritter became Colorado's 41st governor. The U.S. Senate also was up for grabs Tuesday night.
"It's a difficult environment statewide and nationwide for Republicans, and I'm very proud to have the support I have in Routt County," White said.
In 2004, White won in Routt County by 500 votes. He was first elected to the state House in 2000.
During his tenure, White has served as a member of three House committees: Agriculture, Livestock and Natural Resources; Education; and Legislative Audit. He has been named to the Joint Budget Committee, which determines funding for nearly all of the legislation approved at the Capitol.
Gold could not be reached for comment late Tuesday night.
Also on the ballot Tuesday was Oak Creek Libertarian Mike Kien.
"Al White was a good man to compete against," Kien said. "I'm real proud that we ran a good, clean campaign."
- To reach Mike Lawrence, call 871-4203
or e-mail mlawrence@steamboatpilot.com