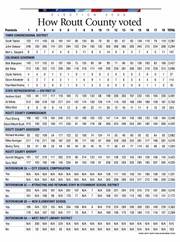 Vote Totals at a Glance
How Routt County Voted
CONGRESS, DISTRICT 3
REP Scott Tipton 2,281 29.54%
DEM John Salazar 5,294 68.56%
LIB Bert L. Sargent 147 1.90%
Bruce E. Lohmiller 0 0.00%
GOVERNOR and LIEUTENANT GOVERNOR
REP Bob Beauprez / Janet Rowland 2,427 31.49%
DEM Bill Ritter Jr. / Barbara O'Brien 5,096 66.12%
ACP Clyde J. Harkins / Tracy Davison 27 0.35%
LIB Dawn Winkler-Kinateder / Richard Randall 114 1.48%
U Paul Noel Fiorino / Heather Anne McKibbin 43 0.56%
Gary Cooper (W) 0 0.00%
Darla Herold (W) 0 0.00%
Charles Walter Sylvester Jr./Ronita Marlene 0 0.00%
Sylvester (W)
SECRETARY OF STATE
DEM Ken Gordon 4,449 60.02%
REP Mike Coffman 2,964 39.98%
STATE TREASURER
REP Mark Hillman 2,935 39.90%
DEM Cary Kennedy 4,420 60.10%
ATTORNEY GENERAL
DEM Fern O'Brien 3,594 48.94%
REP John Suthers 3,410 46.44%
LIB Dwight K. Harding 339 4.62%
STATE REPRESENTATIVE - DISTRICT 57
DEM Andrew Gold 3,491 46.27%
REP Al White 3,730 49.44%
LIB Mike Kien 324 4.29%
COUNTY COMMISSIONER - DISTRICT 3
REP Paul Strong 3,248 42.35%
DEM Diane Mitsch Bush 4,422 57.65%
COUNTY ASSESSOR
REP Richard Klumker 2,062 27.16%
DEM Mike Kerrigan 4,276 56.32%
U Nancy Terry 1,254 16.52%
COUNTY SHERIFF
REP Garrett Wiggins 3,423 44.70%
DEM Gary Wall 4,235 55.30%
Amendment 38
Yes 1,930 26.59%
No 5,329 73.41%
Amendment 39
Yes 2,422 32.34%
No 5,068 67.66%
Amendment 40
Yes 2,303 30.96%
No 5,135 69.04%
Amendment 41
Yes 4,198 56.90%
No 3,180 43.10%
Amendment 42
Yes 4,392 57.28%
No 3,275 42.72%
Amendment 43
Yes 3,126 40.57%
No 4,579 59.43%
Amendment 44
Yes 4,128 53.49%
No 3,589 46.51%
Referendum E
Yes 5,721 76.35%
No 1,772 23.65%
Referendum F
Yes 2,672 38.88%
No 4,201 61.12%
Referendum G
Yes 5,500 77.43%
No 1,603 22.57%
Referendum H
Yes 3,102 42.66%
No 4,169 57.34%
Referendum I
Yes 4,521 59.66%
No 3,057 40.34%
Referendum J
Yes 2,642 35.57%
No 4,786 64.43%
Referendum K
Yes 3,732 50.68%
No 3,632 49.32%
CITY OF STEAMBOAT SPRINGS REFERENDUM 2A
Yes 1,231 34.32%
No 2,356 65.68%
ROUTT COUNTY SCHOOL DISTRICT RE2 REFERENDUM 3C
Yes 3,516 61.81%
No 2,172 38.19%
ROUTT COUNTY SCHOOL DISTRICT RE2 REFERENDUM 3D
Yes 3,363 59.71%
No 2,269 40.29%
CRAIG RURAL FIRE PROTECTION DISTRICT REFERENDUM 4A
Yes 12 50.00%
No 12 50.00%
WEST ROUTT LIBRARY DISTRICT REFERENDUM 5A
Yes 615 79.05%
No 163 20.95%
STEAMBOAT LAKE WATER AND SANITATION DISTRICT REFERENDUM 5A
Yes 83 84.69%
No 15 15.31%
Election 2006
More Election 2006 stories
Steamboat Springs — Steamboat Springs voters struck down a proposed pay raise for the City Council.
With all votes counted, Referendum 2A was defeated, 66 percent to 34 percent. Voters cast 2,356 votes against the referendum, compared to only 1,231 votes in support.
The referendum would have increased salaries for council members, several of whom said an increased workload and larger amount of travel to council-related or community events necessitated a larger salary.
The referendum would have increased the monthly pay of City Council President Ken Brenner from $883 to $1,200; of President Pro-tem Susan Dellinger from $773 to $1,000; and of council members from $632 to $900.
On Tuesday night, Brenner stressed the fact that the referendum's failure will not have a negative impact on City Council morale or work ethic.
"There isn't a single council member that does this job for the pay," Brenner said. "I don't think there's any less resolution from the council to continue to work hard on the goals that we've established for ourselves. We have a long year with a lot of work ahead of us, and I'm very confident that this council will complete a tremendous amount of work in the next 12 months."
In October, the council took on a new schedule of four meetings per month, instead of three. The council also meets frequently as the city's Liquor License Authority and Redevelopment Authority, creating a workload that some council members say equates to 70 percent more meetings than in previous years.
Paul Strong is the only council member who, in August, voted against placing the salary increase on Tuesday's ballot. Strong said the council's workload should be changed, not the wage.
"As opposed to getting a pay raise, we should be looking at how to reduce our time commitments," Strong said. "The council has a great tendency to micro-manage."
In 2001, Steamboat Springs voters gave City Council members a pay increase of $200 per month.
- To reach Mike Lawrence, call 871-4203 or e-mail mlawrence@steamboatpilot.com