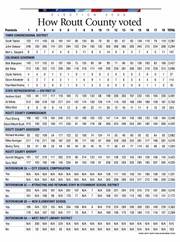 Election 2006
More Election 2006 stories
Steamboat Springs — Teachers and staff in the Steamboat Springs School District are getting a pay raise.
Voters on Tuesday approved Referendum 3C, a mill levy that will raise $600,000 in 2007 and $25,000 more per year through 2015 to fund teacher salary increases and help attract and retain quality staff members.
"The community has shown itself ready to step up for education," Steamboat Springs Middle School teacher Brad Kindred said.
Kindred is president of the Steamboat Springs Education Association, an organization that represents teachers in collaborative bargaining.
According to preliminary results, 62 percent of district voters voted for 3C.
The reason for the increase through 2015 is to address the expected rise in cost-of-living expenses.
"We are very thankful to the voters for supporting education in Steamboat Springs and to the commitment to attract and retain quality educators for the community," Superintendent Donna Howell said.
Taxpayers will notice little change in their tax bill because the $600,000 in mill levy override funds will replace a 1989 bond that expired in December 2005.
School property taxes on a $450,000 home will be $926 a year with the passage of 3C and Referendum 3D, a $29.7 million bond issue for the schools. Voters also passed 3D on Tuesday.
Taxpayers voted for a $773,000 mill levy override in 2001. Those funds were used for a one-time, across-the-board salary increase for staff, but that override has not adequately met the rise in cost-of-living, district officials said.
Steamboat Springs Education Association initially was reluctant to support 3C because it did not want a repeat of 2001, when district staff got one pay raise but no commitment to maintaining competitive salaries, Kindred said.
The education association chose to back 3C after the School Board has said its priority is to bring current staff salaries to the mean of nine comparable Colorado school districts. The board also said it wants to come up with ways to retain quality teachers.
"There is a high level of trust with this School Board," Kindred said.
Performance-wise, Steamboat Springs is in the top third in the state based on Colorado Student Assessment Program test results. Pay-wise, it is in the bottom third in comparison to the nine similar Colorado school districts, which include Aspen, Eagle County and Cherry Creek.
Salary figures were compiled by the Steamboat Springs School District.
"The first priority is to bring the staff to the competitive mean and maintain that competitive edge," Howell said.
A proposed $210,000 of the $600,000 generated by the mill levy override will go to raising current salaries, Howell said. An additional $240,000 will be used to keep salaries competitive. The remaining $150,000 will be used for housing allowances or relocation funds, benefits the district has not previously offered.
- To reach Melinda Mawdsley, call 871-4208 or e-mail mmawdsley@steamboatpilot.com