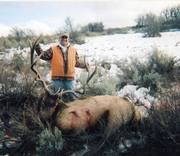 Steamboat Springs — Jeannie Jo Logan was born and raised on her father's 400-acre ranch north of Steamboat Springs near Deer Mountain.
But after the family sold Joe Zimmerman's property recently, they decided to take advantage of their final chance to hunt on the land before moving. They had harvested bull elk from the land's residential herd throughout the years, but Logan had a feeling the big one was out there during the Oct. 21 weekend.
"Knowing he was up there, I wanted him," Logan said after spotting and missing a pair of six-point bulls that Saturday.
The next morning, Logan hit her target and spent the rest of the day tracking the blood trail of the bull. Her search was fruitless.
Three days later, on Oct. 25, Logan took out her all-terrain vehicle to scout an area where she suspected she might find the bull. At about 2:30 p.m., Logan spotted a giant pair of antlers poking out from the oak brush.
"I called my husband and said, 'Hey, I think I found him, and he's big!'" Logan said. "And he just said, 'Well, shoot him.'"
Propped from a tree 200 yards out, Logan felled the elk with a pair of shots from her Remington 270 rifle.
As they elk hopped up and bounded a fence, Logan said her body trembled as she saw the full size of the animal limping into the woods.
"It's an image that will never leave me," she said. "The whole majestic beauty of it - so big, dark and beautiful."
Logan located the wounded elk after enlisting the help of her father and friend Damon Labriola. Nine shots later, the elk finally gave up its fight.
"In its last movement, it was coming up with horns at me and a look in his eye like, 'I'm going to get you,'" she said.
Logan felt her "hunt of a lifetime" in her father's company was a fitting and bittersweet way to end the Zimmerman family's 36-year stay on the property.
Logan's bull had a seven-by-seven set of antlers. It registered a Safari Club International score of 320 7/8 points.
Tom Cox, manager of M & M Elk Ranch, is an official measurer for the Safari Club International. As one of two methods for officially measuring a rifle-harvested elk, Cox said SCI awards a point for every inch of measured antler to the closest 1/8-inch.
The score is a basic added measurement of a bull elk antlers' main beam length, length of tines, four circumferences taken at specific places and a spread distance credited to the widest point between beams.
Cox said only one SCI trophy elk (one that scores over 345) comes out of Colorado every three years. He said any catch over 300 point is exceptional.
"But of course, a 'trophy' is in the eyes of the beholder," Cox said.