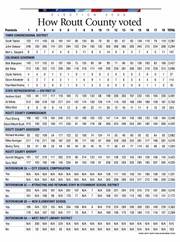 Election 2006
More Election 2006 stories
Steamboat Springs — Democrat Mike Kerrigan cruised to an easy victory Tuesday to become Routt County's next assessor.
With all of the votes counted, Kerrigan grabbed 56 percent, beating Republican Dick Klumker, who got 27 percent and independent candidate Nancy Terry, who received 17 percent.
Kerrigan, 46, is the chief appraiser in the Routt County Assessor's Office. He supervises staff and does all commercial property appraisals.
"I feel good because I think I'm the best candidate, and I enjoy the work that I do," Kerrigan said. "I'm honored by the opportunity."
With 12 years' experience in various assessors' offices, Kerrigan said he thought he was the most experienced candidate. He worked in the Lake County Assessor's Office for six years as a staff appraiser, deputy appraiser and chief appraiser. He started working for Routt County in August 2001.
Kerrigan said he felt confident Tuesday while holding his campaign signs at busy Lincoln Avenue intersections.
"It's emotional because at times you have a lot of different stresses," Kerrigan said about the campaign. "You go through a lot of waves of optimism and pessimism."
Kerrigan will replace Amy Williams, who has worked in the assessor's office for 18 years. He will receive a salary of $59,000 a year and will take office in January.
He said voters should expect a smooth transition and that Williams is not easy to replace.
"She's a work horse," Kerrigan said. "She's like a John Elway, and I'm like the Jake Plummer coming in."
Terry is a private appraiser and previously worked in the Routt County Assessor's office as a residential, commercial and chief appraiser.
"I'm disappointed, but majority rules," Terry said. "It was wonderful, I really enjoyed the process and learned a lot."
Klumker is a retired pilot who entered the campaign lacking any appraisal experience.
"I wish the winner the best of luck and I'll be back next time," Klumker said. "I think (campaigning) was a good experience. I got to meet a lot of good people."
Kerrigan said he had a lot of help with his campaign, and he thought voters made informed choices.
"Quite frankly, I think - and I've been told this by Amy Williams - that the voters of Routt County are very smart voters and it's rare that they make a bad choice, and I think it worked that way this time," Kerrigan said. "I'll work hard to demonstrate to voters that they are smart."