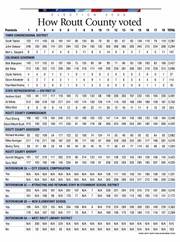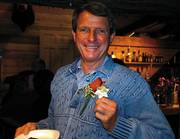 Steamboat Springs — Democrat Gary Wall, a private investigator and former chief of police in Vail, was elected Routt County sheriff Tuesday over challenger Garrett Wiggins.
Wall received 4,235 votes, or 55 percent of cast ballots. Wiggins garnered 3,423 votes, or 45 percent. Wall will take over for Republican Sheriff John Warner in January.
"I am obviously very happy and honored that the citizens of Routt County would want me to be their sheriff," Wall said early this morning. "I have a very clear philosophy of how I think law enforcement should run."
Wall, who also was an Aspen police officer in the 1970s, campaigned on a platform of protecting residents' civil liberties and Constitutional rights.
Wall said he was prepared to change the philosophy of the Routt County Sheriff's Office and that he was glad the residents of the county supported him.
"I'm looking forward to working with the other law enforcement agencies in the county to accomplish the positive, progressive things we've talked about," he said. "This county is ready for the change. They're ready for me."
During the campaign, Wiggins, a Steamboat Springs patrol officer who currently works for the Greater Routt and Moffat Narcotics Enforcement Team, touted his lengthy career in law enforcement and dedication to involving the community in policing. Wiggins has worked at the Steamboat Springs Police Department for five years. He previously was a deputy for the Routt County Sheriff's Office and an officer for the Quincy, Fla., Police Department. Wiggins also worked as a plant manager for Swisher International, a cigar company.
Wiggins said he was OK with losing the election because he learned from the experience and met some unforgettable people during the months he spent campaigning.
"I'm coming out of this experience with a positive attitude, and I'm glad I chose to run," he said. "It's been difficult, but it's been great."
The race for sheriff quickly became contentious, with the candidates using public debates and forums to question each other's qualifications. Each candidate raised more than $20,000 during his campaign.
None of that matters now, Wall said.
"I really didn't know what to expect, but I have been encouraged that the residents are ready to help make the changes I am prepared to make," he said.
Wall said he was planning on spending today "savoring the victory" and calling his supporters to tell them about the win.