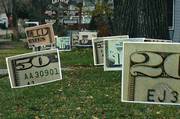 Election 2006
More Election 2006 stories
Steamboat Springs — Gary Wall, the Democratic candidate for Routt County sheriff, received significantly more financial contributions than Republican Garrett Wiggins in the weeks leading up to today's election.
Campaign finance reports filed during the weekend with the Colorado Secretary of State's Office show that from Oct. 12 to 29, Wall received $6,240 in monetary or in-kind campaign contributions, compared to $900 for Wiggins. The reports also show that Paul Strong, Republican candidate for Routt County commissioner, received $3,680 in contributions compared to $1,565 for Democrat Diane Mitsch Bush.
The filings also indicate that two of the candidates for Routt County assessor have had difficulties with the filing process.
Wall said Monday that he appreciates the recent support.
"People came to me, were excited about the campaign and wanted to contribute," said Wall, a private investigator. "I did not go out and solicit money."
Wiggins, a narcotics investigator with the Steamboat Springs Police Department, downplayed the difference in contributions.
"I don't think that's going to have a big impact," Wiggins said. "I think by this time in the game, everybody has already determined who they're going to vote for."
The contributions bring Wall's fundraising total to $20,365 and Wiggins' to $21,665.
Both have filed campaign expenditures of more than $11,000, in addition to significant expenditures last week that will appear in future reports.
Despite Strong's recent strong showing, he trails Mitsch Bush in total contributions. Strong, a seven-year member and former president of the Steamboat Springs City Council, has raised $11,835 during the campaign. Mitsch Bush, a nine-year vice chairwoman of the Routt County Planning Commission, has raised $14,280.
"My experience is that my supporters have been more supportive as the election has gotten closer," Strong said. "And maybe I've gotten more forward as I looked at how much money I needed to spend. We have certainly worked harder to raise money in the last month. There's still money coming in."
Mitsch Bush said "people from every sector of our economy" have contributed to her campaign.
"I have had wonderful support - monetary, emotional and volunteer - from all walks of life," she said. "I'm glad it's such a diverse group, and I'm very honored."
In the assessor's race, only Democrat Mike Kerrigan has filed on-time, itemized reports with the Secretary of State throughout the campaign. Unaffiliated candidate Nancy Terry said she has filed her reports manually with staff at the Routt County Clerk and Recorder's Office. The staff held the reports to clarify wording.
"She is one of two that hand-files with us," recording supervisor Tina Fry said about Terry. Fry said the Routt County Democratic Party also files reports manually rather than electronically.
"I do know that there were some questions on (Terry's report)," Fry said. "We do have those reports here."
Terry's report lists $2,386 in loans. She said much of that is her own money, which she listed as a loan instead of as a contribution to herself.
"I think they feel that it needs to be re-worded," Terry said about her filing. "I'll be meeting with them next week to clarify it."
Terry estimated Monday that she has received about $1,500 in contributions and spent about $5,000 on the campaign.
The most recent report filed by Republican candidate Dick Klumker lists $4,125 in "non-itemized" contributions of $19.99 or less, with no individual contributors listed.
Klumker's wife, Peggy, filed the report. She said Monday that computer difficulties and a misunderstanding of filing procedures caused the problem, which she is working to correct.
"I just made an error," she said. "It's not the right thing to do, but I did it. I feel terrible about it."
Kerrigan said he worked hard to file his reports.
"I think for my campaign, it was just about making the commitment to understand what needs to happen, and then doing it," Kerrigan said. "It's somewhat complicated, but I have a great treasurer, and we took it seriously."
- To reach Mike Lawrence, call 871-4203
or e-mail mlawrence@steamboatpilot.com