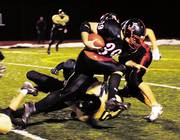 Past Event
Saturday, November 11, 2006, 1 p.m. to 4 p.m.
Gardner Field, 45 East Maple St., Steamboat Springs
All ages / $5
Steamboat's road through the state football playoff bracket will begin at 1 p.m. Saturday at Gardner Field.
Steamboat Springs Athletics Director Richard Lee confirmed Monday the 1 p.m. kickoff for the Sailors' first-round matchup with the Fort Lupton Bluedevils. The Bluedevils finished their regular season with a 6-4 record.
Admission to the state playoff game is $5 for students (kindergarten through 12th grade) and seniors 60 and older. General admission is $7, and children younger than 4 will be admitted free.
The Bluedevils are the fourth seed in the Thompson Valley League, which includes Berthoud (10-0), Sterling (9-1) and Frederick (7-3).
Steamboat finished the season with a 9-1 record, and they are the No. 1 seed from the Western Slope League. The top finish earned the Sailors home-field advantage in the first-round playoff game. The winner of Saturday's game will advance to face the winner of the Sterling-Pueblo County game, which is scheduled for Saturday in Sterling.
If Sterling and Steamboat win, the Sailors' second-round destination will be determined by a coin flip scheduled to take place today.
If Pueblo County and Steamboat win Saturday's games, Steamboat will travel to Pueblo County for the second-round game because the Hornets were on the road and Steamboat is home in the first round.
Of course, a Fort Lupton win will bring a quick end to the Sailors' season.
In other playoff action, the 5-5 Moffat County Bulldogs will travel to Summit County to face Summit, the No. 1 seed from the Central Metro League. That game is scheduled to begin at 1 p.m.
Palisade will travel to Lafayette to face 5-5 Centaurus at 7 p.m. Friday, and Rifle will host Elizabeth at 1 p.m. Saturday.