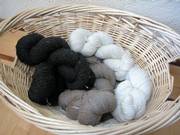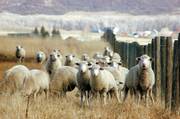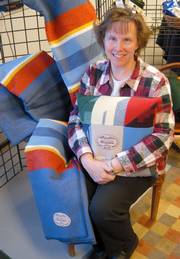 Steamboat Springs — Routt County Woolens has continued to grow throughout the years, but its mission has never changed.
"We want to ensure there is a market for local (wool) producers," said Nancy Mucklow, who, along with North Routt County sheep rancher Greg Brown, owns Routt County Woolens.
The company was formed in 1997 after the Colorado Department of Agriculture provided grant money to explore the market potential for producing a wool blanket made from legendarily clean wool from Routt County.
"For years, we were known for having the cleanest wool this side of the Mississippi," Mucklow said.
There was a local supply of wool as well as demand for wool blankets. Local sheep producers did not want to take on blanket production by themselves, so Brown, Mucklow, Jim Ficke, Susan Shoemaker, Suzanne Hartung and Jim Ross teamed up to form Routt County Woolens.
"Six came to the table and said, 'Yeah, we want to do this,'" Mucklow said.
The partners in the company have changed with the years, but every April, 5,000 to 6,000 pounds of Northwest Colorado's cleanest sheep are sheered and the wool trucked to Faribault Wollen Mills in Minnesota, where it is scoured, dyed, spun and woven into the company's signature collectors blankets.
Between six and eight sheep producers in Northwest Colorado sell their wool to Routt County Woolens. The company pays them premium prices.
"It's the right thing to do for our producers," Mucklow said.
Hayden producer Laurie Hallenbeck will contribute five to eight fleeces from her small flock each year, while larger producers sell hundreds of fleeces. At its essence, Routt County Woolens remains a company geared toward providing an outlet for small- and large-flock producers. The result is a "value-added" product, a concept that involves taking raw materials and turning them into something more valuable as a way of supporting agriculture-related industries. In Steamboat Springs, making "value-added" prod-
ucts also promotes Routt County's agricultural heritage, Mucklow said.
"It offers something to tourists so they can value agriculture like we value agriculture," she said.
The Community Alliance of the Yampa Valley recently named Routt County Woolens as one of its "New Pioneers" for the company's contributions to the community and environmental sustainability in the Yampa Valley.
In addition to the commemorative blanket, Routt County Woolens produces a variety of other Northwest Colorado wool products. Products are available at www.routtcountywoolens.com, and the blankets also are sold at F.M. Light and Sons.
Every year, Routt County Woolens hosts a "Shepards Reception" during the late fall to unveil its latest collectors blanket. The reception is part of the "Hometown Holiday." This year's event is from noon to 6 p.m. Nov. 17 at the Depot Art Center.
- To reach Matt Stensland, call 871-4210
or e-mail mstensland@steamboatpilot.com