Steamboat Springs season statistics
First Downs 118
Rushes-Yards 373-1,972
Comp-Att-Int 77-156-6
Yards Passing 1,068
Total Yards 3,040
Punts-Avg. 37-40
Fumbles-lost 26-10
Penalties-Yards 65-619
SCORE BY QUARTERS
Steamboat 74-46-57-48-225
Opponent 00-38-28-37-103
INDIVIDUAL SEASON STATISTICS
Rushing
Jay Hanley 196-1,152, 12 TD; Sean Forney 35-230, 2 TD; Eric Bonner 26-90; Jace Bonner 13-46; Westin Cofer 15-77; Aaron Hornstein 13-68; Josh Mangold 4-8; Tanner Stillwell 54-267, 3 TD; Matt Lettunich 2-11; Houston Mader 4-8; Alex Wood 5-12; Kevin Stokes 1-3.
Passing
Stillwell 75-149-6 1,048 yards, 11 TD; Wood 1-7-0 20 yards.
Receiving
Hanley 9-102, Hornstein 5-50, 1 TD; Westin Cofer 10-194, 5 TD; Nigel Hammond 13-170, 2 TD; Michael Stewart 17-236, 1 TD; Jace Bonner 17-270, 1TD; Jeff Dawes 3-27, 1 TD; Sean Forney 1-11; Houston Mader 1-8.
Western Slope matchups
Fort Lupton (6-4) at Steamboat Springs (9-1)
Elizabeth (4-6) at Rifle (7-3)
Palisade (7-3) at Centaurus (5-5)
Moffat County (5-5) at Summit (10-0)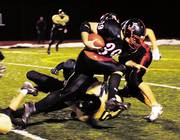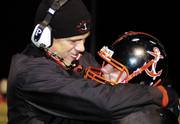 Steamboat Springs — Steamboat Springs football coach Aaron Finch doesn't know a whole lot about Fort Lupton, the Sailors' first-round playoff opponent.
What he does know, however, is that his team is hitting its stride at just the right time.
The Sailors enter the playoffs having played their four best games of the year. The most impressive game came Friday night, when the Sailors ran around, through and over Battle Mountain en route to a 39-12 victory.
Steamboat had more than 500 yards of total offense against the Huskies, including an eye-popping 446 yards on the ground.
"We continue to find ways to get better," Finch said Saturday. "We did a lot of things really well, but there are things we need to do better in the playoffs. It wasn't perfect, but we'll work on some things and get better."
Fort Lupton comes into the playoffs as the No. 4 seed from the Tri-Valley League. After starting the year 1-3, the Bluedevils won five of six games down the stretch to secure their first playoff appearance since 1991.
"We struggled getting to know each other," Fort Lupton first-year head coach Bob Hudson said Saturday. "I really believe staying positive helped us overcome some tough times."
Hudson said the Bluedevils run a double-slot offense - keyed by senior quarterback Joel Mudd and 225-pound fullback Cael McShane - that's very similar to what the Air Force Academy runs. On defense, Fort Lupton relies on a 4-4 scheme that Hudson called the strength of his team.
"The reason you coach is to see smiles on kids faces," Hudson said. "Our kids have enjoyed some success and are playing real confident now."
The Bluedevils, however, won't be the only confident bunch Saturday.
Steamboat continues to use a swarming defense to shut down opponents, and its offensive line has dominated teams at the line of scrimmage.
"All aspects of the game are important, but our attitude and the way we play depends on defense," Finch said. "Coach Clem (defensive coordinator Lonn Clementson) puts together a great game plan and makes it really difficult for teams to move the ball."
With the playoffs coming down to a four-round, sudden-death tournament, Finch said he's confident the Sailors will play to their abilities at Gardner Field on Saturday.
"I know we're going to bring everything we have," Finch said. "You lose and you go home. You don't want to leave having the feeling in the last game knowing you didn't play well. I am confident we'll play well. That was shown last night. The kids put themselves out there and showed how they can play."
- To reach Luke Graham, call 871-4229 or e-mail lgraham@steamboatpilot.com