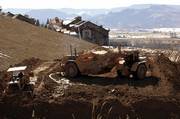 Steamboat Springs — A letter criticizing city development policies has not stalled plans for redevelopment at the base of Steamboat Ski Area.
A week after sending the strongly worded letter to the Steamboat Springs City Council, base area property owners and investors agree with city officials that the letter does not represent division or hostility. Rather, they said, it is intended to start a necessary dialogue about how to move forward with aligning the city's housing and development policies to accommodate community interests, affordable housing needs and development at the ski base.
"Our participation in that letter is just a matter of trying to get the word out," said Jim Wells of Timbers Company, a Carbondale-based firm developing One Steamboat Place, a resort-style project at the base area. "We're not trying to apply any pressure, we're just trying to start a dialogue."
City Council member Steve Ivancie said he hopes to see " a partnership" form at Tuesday's council meeting, which includes a work session to discuss base area issues.
"Right now there's a lot of misunderstanding and distrust. I don't know how it got to that point - something has gotten lost in translation. I understand (developers') concerns, but we're also trying to represent the interests of the entire community."
Wells is one of seven members of the Base Area Reinvestment Coalition who signed the letter, which accuses the council of fostering an "increasingly unpredictable, arbitrary and inflexible regulatory environment" and administering "a confusing application of inclusionary zoning regulations."
The letter also recommends that all base area redevelopment projects be put on hold until a better partnership can be formed between city government and private interests.
Coalition members said recent council decisions are contrary to the original intent of the Urban Renewal Authority which the City Council created in 2005 to raise money for public improvements around the ski area base.
The letter also is signed by Chris Diamond, president of Steamboat Ski and Resort Corp.; developers Whitney Ward and Brent Pearson of Resort Ventures West, the driving force behind the Wildhorse Meadows and One Steamboat Place developments; David Baldinger, a Torian Plum Plaza property owner; Jack Ferguson, owner of Mount Werner Lodge; and base area property owner James Temple.
Despite the recommendation, work is continuing on Wildhorse Meadows, One Steamboat Place and plans for base area improvements.
"We're still moving along," Wells said. "We're hoping to submit our final development plan in mid-February."
Front-row seat
At an Oct. 17 meeting, the City Council denied the community housing plan for One Steamboat Place, citing a need for more affordable housing units on-site rather than accepting a "fee in lieu" from developers.
That fee in lieu would be used to fund affordable housing projects at other locations within city limits.
Before that denial, Wells had a front-row seat for a council discussion about a report from the Affordable Housing Working Group, a 12-member group of city officials and community members that met weekly since April to examine the city's affordable housing regulations.
The discussion provided a quick look at several issues the council and base area planners will address Tuesday.
For example, the council rejected the working group's recommendation to establish a Land Acquisition Fund that would have eased the fee-in-lieu process for developers.
The coalition letter takes a clear position on in-lieu payments.
"We think the council should respect, support and empower the Yampa Valley Housing Authority to create affordable housing by providing a stream of payment-in-lieu funding from the base area, where on-site affordable housing production is punitively expensive and dysfunctional," the letter reads. "We believe that One Steamboat Place is an excellent example of where on-site housing is being forced into a project inappropriately."
Several council members said the base area, including One Steamboat Place, is a viable location for affordable housing.
"In the Steamboat population I know, there would be people who would want to buy and live at the base," City Council member Karen Post said. "I'd like to give it a try and see if the units are attractive to people."
The council supported a working group recommendation to remove a "redevelopment exemption" from the city's inclusionary zoning ordinance.
The exemption requires developers to include affordable housing only for new units created in a redevelopment project, regardless of an increase in the project's size.
For example, if a 45,000-square-foot project with 30 residential units was redeveloped into a 90,000-square-foot project that also had 30 units, no new affordable housing would be required.
"There is a possible scenario where we could see half a billion dollars of redevelopment at the base area with absolutely no affordable housing," council member Towny Anderson said about the exemption. "That is unconscionable."
The council directed city staff to prepare an ordinance removing the exemption from inclusionary zoning regulations.
Moving dirt
Construction crews continued work this week at the future site of Wildhorse Meadows, which will include 567 residential units and more than 35,000 square feet of commercial space on a 47-acre plot adjacent to the Tennis Center at Steamboat Springs.
Sales at Wildhorse are galloping ahead, according to Resort Ventures West, which said it sold more than 75 percent of the properties offered in the development's first sales release in early October.
The council approved the development and housing plans for Wildhorse Meadows in July.
At least 80 of the residential units at Wildhorse will be deed-restricted as affordable housing. Developers RP Steamboat LLC initially offered an in-lieu payment of at least $1.4 million to the city, but they retracted the offer and agreed to build the units on-site.
"We are going to build all of the (affordable) requirement on-site, at that location, and try to have an integrated community there," RP Steamboat partner Whitney Ward said in July.
The council approved the development plan for One Steamboat Place in August but has since denied two proposed housing plans.
"We'll get this housing resolved," Wells said Friday. "We potentially could put all the (affordable) units in the building, but we still feel strongly that that's not appropriate."
Wells said Timbers Company staff is still pursuing an off-site building location.
"Finding that site is not easy," he said. "Most everything is either way too expensive or way too big for our obligation."
The city's inclusionary zoning ordinance requires One Steamboat Place to include 14 affordable units.
Several citizens have asked the council to place those units on site to prevent the base area from becoming a home only for the wealthy.
"My fear is you'll create a gated mountain," Steamboat Springs resident Audrey Mandell told the council last month, before referring to an Aspen resort.
"You'll create a Ritz Carlton out of every project that goes up," she said.
Ivancie said the base area planning process, and balancing developer interests with housing needs, is a result of Steamboat's expansion "from a big town to a small city."
"We're going through growing pains," Ivancie said. "And we can't make progress if we don't work together."