Vehicle concerns
Out-of-county residents should be reminded that many Routt County roads receive no winter maintenance, and those hunters should be prepared for sudden changes in weather. Also, check with land management agencies before taking off-highway vehicles into the woods. Firearms on four-wheelers must be unloaded and secured in a case.
Check your head
Although no scientific evidence exists that chronic wasting disease can be transmitted to humans, none exists to prove it cannot. The heads of harvested animals are collected at the DOW offices in Steamboat, Craig, Walden and Meeker. For $15, the DOW will test the lymph nodes of your animal and deliver CWD results in two weeks. CWD, a relative of mad cow disease, infects roughly 1 percent of deer and elk. If your animal is found to be infected, the DOW will refund license and processing fees.
Leftover licenses
As of Thursday, DOW district wildlife manager Susan Werner said there were still a handful of third- and fourth-season cow and doe licenses available for game management units near Steamboat Springs. The licenses are available for purchase at any licensing agent or at the Steamboat DOW office, 925 Weiss Drive. Hunters are encouraged to first view license availability at http://wildlife.s.... Call 870-2197 for more information.
Hunting season
The third rifle season - combined deer and elk - runs through Friday. The fourth rifle season - limited deer and elk - runs Nov. 15 to 19.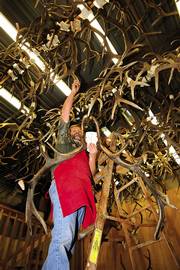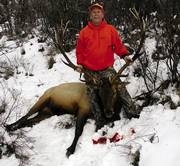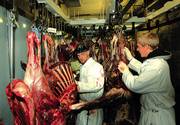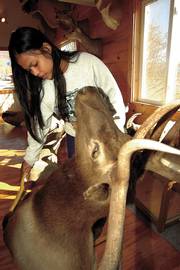 Steamboat Springs — High-country hunting may have taken a brief break during this past week's five-day hiatus between the second and third deer and elk rifle seasons, but that's when the craziness began for the butchers at Steamboat Meat & Seafood Company.
On Wednesday afternoon, head butcher Sherry Perez said she had logged nearly 130 hours trying to make a dent in the load of harvested animals brought to the Steamboat butcher shop during the first two big-game seasons.
Having already cut and prepared meat from 280 animals, Perez took a brief break Wednesday before heading back into a freezer packed with 46 more to be processed before Saturday, the beginning of the third rifle season.
"We have to cut a certain amount that we have to get done before the next season starts, and then it's back to square one," Perez said, noting the increase in work compared to last year's hunting seasons. "This time last year we were starting to slow down at the end of the week."
Bob Reinier of B and L Quality Taxidermy also logged long hours this past week to play catch-up before the third season began. With close to 200 hunters having already dropped off antlers from their kills, Reinier said he was getting close to the number of mounts he typically will spend the rest of the year assembling. But Reinier said this year's harvest appears to be average or just above average.
Just down U.S. Highway 40 at All Seasons Taxidermy, Gary Troester was just as busy. He, too, said the fall's yield is average.
Both agreed that it's difficult to use their businesses as gauges of the season's overall game harvest. Trophy demand is relative to a hunter's experience - one man's trophy bull may not be worth another's shot, they said. The Colorado Division of Wildlife will not have harvest estimates for game management units until it begins its hunter harvest survey in December.
Few hunters would argue the trophy quality of the 315-point bull elk that Steamboat's Tom Nelson shot during the first weekend of the second rifle season. Hunting on public lands on the west side of Sleeping Giant, Nelson decided to hike up a small hill at dusk to look out on the area he would traverse back. He had just hung up his cell phone after telling his wife he was calling it a day and heading home when his elk walked right down his path. Nelson has hunted in that area for years, but had never experienced that kind of luck.
"I called (my wife) back and said we wouldn't be coming home for a while," Nelson said.
After six hours of skinning, quartering and hauling the elk three miles to his car, Nelson was content to end his season. Now, his focus is on choosing between elk hamburgers, steak and sausage.
The hunting seasons of nonresidents also may be coming to a quick end. Steamboat Springs DOW area wildlife manager Susan Werner said the third and fourth rifle seasons attract more locals hunters than out-of-state ones. Although Werner suspects the threat of inclement weather for the drop-off in visiting hunters, she can't point to it as the determining factor. She did, however, make the point that this year's early snow caused noticeable deer and elk movement.
"It's instinctual," Werner said. "Deer have a hard time moving in deep snow. If snow's covering shrubs - their main food source, they'll be running on an energy deficit, spending more energy getting food than they'll gain from it. They're already in the transition zones from higher mountains to lower elevations."
Terry Nelson, manager of Steamboat Lake Outfitters, said he has noticed the changes in the high-elevation terrain of GMU 214 near Hahn's Peak.
"The early snow and cooler temperatures got them to move west earlier," Nelson said. "That typically happens in the middle of the fourth season."
For Nelson and Three Forks Ranch hunting guide Justin Flaherty, who also reported herds moving from their 50,000-acre ranch north of Hayden, the conditions simply mean a more challenging hunt that requires a little extra work and perseverance.
Bill McKelvie has hunted the Steamboat area for 35 years. The co-chairman of the Steamboat chapter of the Rocky Mountain Elk Foundation returned in second season to the same spot near Sleeping Giant where he had hunted weeks earlier to find noticeably fewer animals. He believes the early high-country exodus is because of the hard lesson elk learned last year.
"I remember one farmer's field with 50 to 100 dead elk," McKelvie said about the devastating results of last year's winter kill. "As you drive south of town on (U.S. Highway) 40, you could see a couple of herds that got caught in the heavy snow."
The early migrations mean successful hunters will have to capitalize on the spots where the elk and deer are moving.
"They're already in Hayden," McKelvie said. "My observation and advice is to go farther west."
For those who don't want to gamble trying to find the perfect spot to catch these westward migratory herds, South Routt's GMUs offer a chance at hunting the more sedentary residential herds near the Flat Tops Wilderness Area.
Eagle Spirit Outfitters' Jim Sanchez said he thinks this week will provide a better picture of whether these herds will move down from the Flat Tops' higher elevations.
He advised that with the difficulties of elk going into a post-rut mode and breaking off from groups of cows, hunters should stack the cards in their favor by hunting lower than normal and moving to more south-facing slopes. The sparse bull spotting also means hunters should consider spending more time glassing.
"The No. 1 key factor is you have to play the wind," Sanchez said. "In the morning, the wind will be generally sucking down, so you have to go from the bottom up in the morning. In the evenings, the thermals will be sucking the opposite way, so you have to set up higher."