If you go
What: South Routt Economic Development Council meeting
When: 7 p.m. Nov. 20
Where: Oak Creek Town Hall, 129 Nancy Crawford Blvd.
Call: Ken DePaul at 736-0591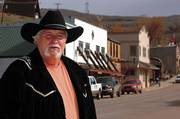 Ken DePaul thinks the growing number of new South Routt County businesses is a sign of things to come.
"I feel there's a subtle wind changing here. People are seeing South Routt as a viable place to bring your business," said DePaul, president of the South Routt Economic Development Council. "The best way to put it is that the sleeper has awoken."
DePaul said the economic development council has been overwhelmed trying to keep up and make connections with the new businesses moving to the area. The council, which began in the early 1990s as a means to support and encourage a strong local economy, has grown substantially over the past decade, he said.
At its monthly meeting last week, council members discussed several new programs and projects, including taking over the annual Soap Box Derby, partnering with the Historical Society of Oak Creek & Phippsburg to put a visitors center in the new historical society building, receiving 510(c)3 status from the state to begin obtaining grants and expanding the annual Taste of South Routt.
The council also recently published its second annual business directory, which lists community events, library information and contact information for nearly every South Routt club, organization and business.
"We've had a very successful year. Every year, more and more people come to our events, like the Taste of South Routt, to support their local businesses," DePaul said. "We've received some very positive comments from residents and business owners alike that what we're doing is working."
The philosophy behind an economic development council is to encourage local residents to support local businesses - "The concept is to help the money in our towns not leak out," DePaul said.
Beyond keeping South Routt dollars in South Routt, the council works to encourage and support new and existing businesses.
"We have a very business-friendly community here with a ton of greatly skilled and educated employees to be hired," he said.
After partnering this year with the Routt County Economic Development Cooperative, which includes economic development councils in Steamboat Springs and Hayden, DePaul said the South Routt council has begun discussing location-neutral business possibilities and other issues affecting the Yampa Valley.
DePaul said he is eager to see what the future holds for South Routt's thriving economy.
"This is a very exciting time for us. Everything is happening all at once."
- To reach Alexis DeLaCruz, call 871-4234 or e-mail adelacruz@steamboatpilot.com