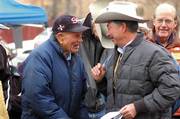 Steamboat Springs — With their campaigns quickly winding to a close, the top Republican and Democratic candidates for Colorado governor and Third Congressional District representative expressed optimism Saturday for Election Day wins.
Democratic gubernatorial candidate Bill Ritter and U.S. Rep. John Salazar stopped in Steamboat Springs on Saturday for a brief rally on the Routt County Courthouse lawn.
Although several recent polls suggest Ritter and Salazar hold strong leads in each of their races, the candidates said they remain "cautiously optimistic."
"Seriously, we don't even think about it. We're just working every day to get to as many people as we can," Ritter said Saturday after addressing a crowd of about 150 people on the courthouse lawn. "We're not taking anything for granted."
Ritter and Salazar, who were joined by U.S. Rep. Mark Udall, spent Saturday morning in Grand Junction and planned to visit at least six other towns before heading back to the Front Range for pre-Election Day stops in Colorado Springs, Gunnison, Alamosa, Durango and Pueblo.
Republican Bob Beauprez, Ritter's opponent, spent Saturday morning in Greeley with President Bush before heading to Loveland and Jefferson County for campaign stops, said John Marshall, his campaign manager. During the next few days, Beauprez is scheduled to make visits to Northern Colorado, El Paso and Mesa counties and the Denver metro area.
"We feel very comfortable about where we're at," Marshall said Saturday. "Everywhere we go we see a ton of folks that are really excited and energized about this election."
A SurveyUSA poll released Wednesday showed Ritter with a 22-point lead over Beauprez. Numerous other polls taken during the past two months showed double-digit leads for Ritter. However, a Zogby International poll released Tuesday by the Wall Street Journal gave Beauprez a narrow lead - 46.6 percent to 46.4 percent.
On Saturday, Marshall said polls don't matter "in the least" and that Beauprez is confident heading into Election Day.
Salazar, a Manassa Democrat, is running for re-election against Republican businessman Scott Tipton of Cortez and Hotchkiss Libertarian Bert Sargent. During his Steamboat stop, Salazar said he is encouraged by recent polls that indicate his lead over Tipton is between 11 and 19 points.
"The poll numbers are very positive. It looks like we'll be able to take back the House," Salazar said.
Like Ritter, Salazar said he intends to spend the next few days talking to state residents, encouraging them to vote.
"We can't win unless we get people to the polls," he said.
Dirk Hallen, Tipton's campaign manager, said Saturday that Tipton isn't concerned about the polls because "he has been working to close those gaps."
"We know it's a close race. What it's going to come down to is voter turnout, and we're very confident that we're going to get Republican voters to the polls," Hallen said.
A recent SurveyUSA poll that surveyed 1,000 voters showed that 57 percent of 611 "likely" voters would vote for Salazar. Thirty-eight percent said they would vote for Tipton.
Hallen called SurveyUSA "a joke" and "unscientific in methodology."
Hallen said Tipton would be busy the next three days "shaking hands in front of Home Depot and Wal-Mart, pouring cups of coffee in diners and waving flags" in Montrose, Delta, Cortez, Durango, Garfield and Mesa counties.