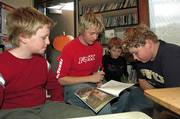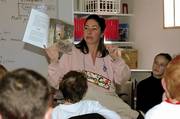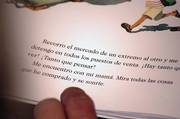 Steamboat Springs — It was Wednesday afternoon - still three days until the weekend, but the fourth-graders in Judy Ross' and Barb Gregoire's classes were singing and clapping.
"My job is easy," Ann Coon said. "They love Spanish."
Señora Coon, as her nametag read, opened the 20-minute Spanish lesson with a series of Spanish commands. Then, Coon, the district's elementary Spanish teacher, began the lesson of the day.
Wednesday was El DÃa de los Muertos, the Day of the Dead. The Nov. 1 holiday is popular and important in Spanish-speaking countries, Coon told the students. It is a day set aside for the spirits of the dead to return to interact with loved ones.
The Strawberry Park Elementary School fourth-graders and visiting students from Lisa Racine's high school Spanish class split into small groups to read a book about El DÃa de los Muertos.
"This is an upper-level reading book," Coon said. "Pick out words you know. Look for cognates (words in different languages that sound similar)."
Meanwhile, Coon handed out pan dulce - bread with brightly-colored frosting that is traditionally served on the holiday.
For the past four years, the elementary Spanish program has taught Steamboat Springs third-, fourth- and fifth-graders a second language and a new culture. By most accounts, the students love their Spanish lessons.
"I really love learning it and experiencing a new culture," fourth-grader Logan Bankard said. "I love Spanish. I've got tons of books at home about it."
Foreign language start
For the first time since the program's inception in February 2003, it is fully funded by the Education Fund Board, a volunteer group that administers the city's half-cent sales tax for education. Also for the first time, the Fund Board is providing money for an additional foreign language teacher at the middle school level.
For Coon, parent Bette Vandahl and other district Spanish teachers, the additions represent a much needed step for the school system's articulated foreign language program. Vandahl is largely credited for spearheading the elementary Spanish program four years ago, when she and other parents approached district officials to ask for Spanish instruction for their elementary students. The parents even said they were willing to fund it.
At the time, the district accepted the proposal but said it wouldn't pick up the tab. District officials expressed concern about the school system's lack of an articulated K-12 foreign language program. Now, some of those steps are being put into place.
Groups of parents at Soda Creek and Strawberry Park raised money, largely through a grocery store gift coupon program and a fiesta at Olympian Hall, to keep the elementary Spanish classes going. They've received some help from the Fund Board, but never the kind of contributions that were made this year.
School board member John DeVincentis was principal at Strawberry Park when the Spanish program was initiated. He supports the Spanish program, particularly because it was parent-driven.
"When they have an initiative like that, we have to do as much as we can to make it happen," DeVincentis said. "When we are spending a lot of money, I want to know there is a lot of value for the kids."
The elementary Spanish program is required for students in third, fourth and fifth grade. Middle school students are required to take Spanish in sixth grade.
Foreign language also is required in seventh grade, but it can be Spanish or French. Foreign language will be a requirement for eighth-graders next year, Steamboat Springs Superintendent Donna Howell said.
Foreign language is optional at the high school, but high school Principal Mike Knezevich said the Spanish and French programs are popular and that an increasing number of students are leaving Steamboat having taken four years of a foreign language. There is no foreign language requirement to graduate from the district.
The expansion of the middle school foreign language program could enable students to leave the middle school with the equivalent of one year of foreign language on their high school transcripts, Coon said.
In high school, students would have to take only one year of a foreign language to fulfill the two-year requirement needed for admission to most colleges and universities.
Coon said she is excited about the foreign language head start Steamboat elementary and middle school students are receiving.
"They could have 10-plus years when they graduate," Coon said. "If they elect to take Spanish in eighth grade, we will have a rocking Advanced Placement Spanish program in five years."
Advanced Placement courses enable high school students to gain college credit if they score well on tests. In addition to potentially receiving college credit, there is the possibility that students could leave Steamboat fluent in two languages.
Bilingual benefits
Cassie Wilhelm, a fourth-grader at Strawberry Park, recently drew a cartoon starring a perro, or dog. The comic strip was written entirely in Spanish. Cassie said she enjoys speaking Spanish. She also enjoys telling her mother about her Spanish homework and what she is learning.
"I wish I would have had this," Rebecca Wilhelm said.
Studies indicate that students' levels of language proficiency are directly related to how early instruction begins and how often instruction takes place.
There is discussion of expanding the Spanish program to include first- and second-graders, but those discussions are only preliminary, Howell said.
Most district students count English as their primary language, but the number of students in the English as a Second Language program grows annually.
"Spanish is spoken," Coon said. "Students hear it in the halls and at the grocery stores. It's already a fabric of our lives."
Teaching Spanish enables more children to communicate more often with one another, and it brings cultural diversity and cultural acceptance to Northwest Colorado, Coon said.
DeVincentis said he recently spent time in a Denver school that was labeled "underachieving" based on its Colorado Student Assessment Program test results. Although the school wasn't hitting state-mandated marks in reading, writing and mathematics, one thing stood out to DeVincentis.
"All of those kids will be, or are, bilingual," he said.
The tests were administered in English, but many of the school's students don't have a firm enough grasp on the English language to test well, DeVincentis said.
"These kids are very nice, very well behaved," DeVincentis said. "They will have an advantage."
They will be bilingual and potentially more attractive in the job market, he said.
Coon said she understands the district's need to score well on CSAPs and district assessments. Reading, writing, mathematics and science are important, but the core classes and Spanish don't have to be mutually exclusive.
DeVincentis tried to learn German once while living overseas. He noticed the children picked it up much quicker.
"For me, I've always seen the benefit of it," DeVincentis said. "I hope it continues."