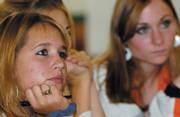 Appropriately, the green T-shirt Soroco High School senior Chelsea Bonfiglio wore Friday said, "I was born ready."
Bonfiglio attended a daylong leadership seminar on issues ranging from identifying personality traits to ethical decision-making. She was joined by 29 of Soroco, Hayden and North Park high schools' brightest and most promising juniors and seniors
The 4th annual Routt County Leadership Symposium, sponsored by philanthropists Harriet and Fry Freiberger, was held at Olympian Hall. During the session the students listened to presentations from Mark Hyatt, superintendent of the Classical Academy School District in Colorado Springs; Maj. Russ Sojourner, a retired U.S. Air Force officer and current middle school principal; Jeff Kozyra, a consultant specializing in character and leadership seminars; Mark Windel, a motivational speaker; and Rick Wood, a former survival instructor and current consultant in leadership training.
Hyatt said the goal of the symposium is to encourage the high school students that excel in school leadership positions to hone those skills and develop more to prepare them for their future careers and goals.
"The big picture is that these are your future community, state and possibly national leaders," he said. "What we're trying to do is get these young people together to put them through experiences that make them think about what kind of person they want to be so they can practice that."
During the morning sessions, the students took personality tests that helped them understand who they are. They then broke into small groups to discuss the characteristics of admired people and how a diverse group of people can work better together than a homogenous group or an individual can.
Fry Freiberger said he couldn't be happier with the caliber of students that chose to attend Friday's symposium.
"These kids have a thirst for learning," he said. "We are taking what they've learned in school and reinforcing those skills."
Freiberger said very few school officials dedicate the time or resources that advanced students need to succeed because their attentions are usually focused on the students that need more classroom attention.
"We do all kinds of things for the special education students, but people don't understand that students at the top of their class also are special. We don't give enough to the students that are excelling," he said.
Hyatt said he was glad to have met this year's stellar participants throughout the day.
"I'm so impressed with your kids," he said. "They're just amazing."