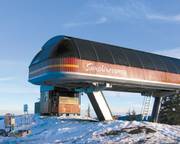 Steamboat Springs — With just 18 days until the 2006-07 ski season officially begins, Steamboat Ski Area representatives say capital improvements that began this summer are on schedule.
The Sunshine Express high-speed quad chairlift, which replaces the three-seat Sunshine lift, should be operational by mid-December. The refurbished lift, which came from The Canyons resort near Park City, Utah, is expected to cut ride time from 11 minutes to about 5 1/2 minutes. The lift can carry 2,400 persons an hour and will travel a distance equal to about three football fields every minute. The ski area purchased solar and wind power certificates to power Sunshine Express.
The new lift will feature a red and yellow paint pattern. The ski area's other quad lifts eventually will be painted similar colors.
The addition of Sunshine Express is one of several improvements intended to make the Steamboat Ski Area more family friendly, spokesman Mike Lane said. American Skiing Company is spending $7 million for improvements to the ski area this year, including a $1 million remodel of the Thunderhead and Rendezvous Saddle food courts.
"It should be a totally new experience in those two eateries," Lane said.
Work on Rendezvous Saddle is about 85 percent done, and slightly more work remains at Thunderhead, he said.
Trail improvements also have been completed. A steep pitch at the top of the Tomahawk ski trail has been addressed with a new trail that bypasses the steep pitch while traversing back to the High 10 a.m. trail and Rendezvous Saddle. Also, the beginner trail, Broadway, was widened and graded to decrease its slope.
The ski area spent about $500,000 on new grooming equipment, including a Zaugg pipe cutter. More than two miles of new pipe was installed to improve snowmaking.
"They fired up last week," Lane said. "They're in and ready to go."
Snowmaking will be concentrated on runs coming down from the gondola in preparation for opening day.
The Steamboat Ski Area opens Nov. 22 for Scholarship Day. Season passes are not valid on that day. Tickets for Scholarship Day are $15, and all proceeds are donated to the Steamboat Springs Winter Sports Club's Scholarship Fund. Scholarship Day raised $48,000 last year.
"It's been a really good way to open the season," Lane said. "Everyone can get up on the mountain for a good price, and it's for a good cause."