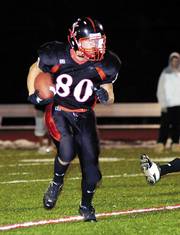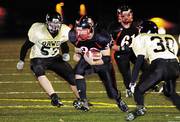 Steamboat Springs — Two hundred yards on the ground is great.
Three hundred yards on the ground is phenomenal.
But 400 yards in one game?
There may not be a word in the dictionary to describe the Steamboat Springs football team's 446-yard rushing performance in a 39-12 rout of Battle Mountain on Friday.
"It was interesting because it was one of those nights where we wanted to get a little more balanced," Steamboat head coach Aaron Finch said. "But when you're running the ball that effectively it's hard to go away from it."
The Sailors (9-1, 7-1 in league play) had 11 different players carry the ball, two players rush for more than 100 yards, four touchdown runs, and scampers of 32, 37, 46 and 73 yards.
"I think we've all come together as a team," senior Joey Melius said about the offensive line play. "We are one man working together. I think our running backs are pretty happy about that."
Maybe the Sailor with the biggest grin on his face was senior running back Sean Forney. He rushed for a career-high 126 yards on 13 carries, including two touchdown runs. Not bad for a guy who is playing his first year at running back.
"To have (Sean) come out and just put on the show the way he did is just so much fun," Finch said. "To have him rip off two and have some great runs - I just love that kid."
Said senior quarterback Tanner Stillwell: "Forney ran like an animal tonight."
On the other side, Battle Mountain (4-6, 3-5) could muster little offense against a stingy Steamboat defense. The Huskies were limited to 118 yards on the ground and didn't get on the board offensively until a 44-yard double pass set up a Bart Cuomo 1-yard touchdown run in the fourth quarter.
Huskies coach Pat Engle said his teams performance and collapse down the stretch - the Huskies dropped their last five games including four against league opponents - lies solely with him.
"I must be the worst coach in the Western Slope," Engle said. "I had a team at 4-1 and lost five straight. I couldn't seem to get it done. All's we needed to do is win one game and we're in the playoffs. So it's on me."
Steamboat got the scoring going early and often. On Battle Mountain's first possession, it lined up to punt and the snap went out of the back of the end zone for a safety and a 2-0 Sailor lead. When Steamboat finally took the field on offense the team scored on five of its first seven possessions. Jay Hanley scored twice - once from 32 yards out and then on a 2-yard run. Stillwell found Nigel Hammond on a 12-yard strike and Forney added runs of 46 and 2 yards to complete the romp.
At one point Steamboat had a 36-0 lead.
"It felt amazing," said Forney about his first touchdown runs, just two weeks after having a 90-yard score called back because of a penalty. "I looked back to look for the flags first but it was just amazing. You can't explain the feeling."
Battle Mountain finally got on the board late in the third quarter when Travis Landauer took a kickoff 88 yards for a touchdown to break up the shutout. Cuomo added his touchdown run to make it 36-12. A late Ben DeLine field goal gave the Sailors the 39-12 victory.
With the win, the Sailors wrap up the No. 1 seed in the Western Slope League. They will play either Frederick or Fort Lupton next Saturday at home. Battle Mountain's season ended with the loss on Friday. Rifle locked up the No. 2 seed with Palisade earning the third seed and Moffat County the fourth in the Western Slope.
" At this point everybody is good., " Finch said of the playoffs. "It doesn't matter who we get."