Past Event
Friday, November 3, 2006, 7:30 p.m. to 9 p.m.
Depot Art Center, 1001 13th St., Steamboat Springs
All ages / $5 - $10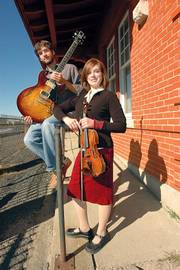 Holden Young is finally at a place where he has something meaningful to say.
"As a teenager, I was just letting things out," said Young, a guitarist, pianist, percussionist and singer/songwriter. "Now I actually do know something and want to share."
Tonight, Young will showcase the more eclectic side of his craft. He will perform Indian classical, jazz and folk music. Carolyn Berns will accompany Young for three songs on the violin.
"I normally play rock 'n' roll, but this will be much more in the jazz vein and more compositionally oriented," said Young, a Steamboat Springs resident originally from Maine. "I'm expanding my palette of music."
His performance will be a sit-down affair instead of the typical bar scene, for which he played as many as five shows a week this summer.
"Most events are fueled by alcohol and good times. I want to make this space to be a place people can do actual listening, and play music in an environment where people can concentrate on the moment and focus on something together and relax," he said. "That's the meditative aspect, where you can draw from the people around you."
Young called himself a spiritual person who enjoys reading about and incorporating Eastern philosophy into his music.
"I want some sort of message that you can grab on to," he said. "I'm at a point where I'm playing loud rock 'n' roll funk with a positive message about being good to yourself so you can be good to other people."
He thinks the messages inherent in music can be obvious.
"You can hear a really cheesy song on the radio and its message comes along so simple," he said. "It's something you can relate to in a different way. Music is a way of having a voice for how you are feeling."
Unlike the European music culture, in which Young said people focus on the music itself, many Americans don't have the attention span to concentrate on what they're listening to. Young wants to perform sit-down concerts at least once a month to give his audiences a chance to appreciate a live music performance.
"Music is in every aspect of life," Young said. "It's something to listen to and to elevate yourself, whether it's cleaning the house, making breakfast or sitting around drinking a beer."