Past Event
Monday, November 6, 2006, 7 p.m. to 8:30 p.m.
Depot Art Center, 1001 13th St., Steamboat Springs
All ages / $5 - $15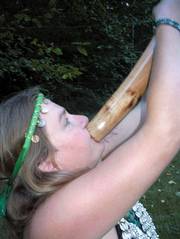 Joy Hughes' sound-healing career began the day a man on the streets of Portland, Ore., asked her if she wanted a brain massage.
But instead of actually touching her scalp, the man played a didgeridoo, an Australian Aboriginal instrument that looks like a long wooden pipe and creates a deep, reverberating humming sound.
"He played into my chakras on the spiritual level, and I had a sense of energy moving upwards that continued for two months," Hughes said. "That's when I decided to be a sound healer myself."
Hughes said there are emotional and physical benefits of sound-healing through the use of the didgeridoo. Hughes has helped friends with ear and sinus infections and emotional issues.
"I can't make any medical claims," she said. "But it is good for physical blockages. That is purely the effect of sound waves."
Curious residents can experience soul healing Monday at the Depot Art Center, when Hughes will give a live performance of songs from her first CD. The performance also will incorporate belly dancing.
"When I do shows, people start by laying on the floor, and I play over them," she said. "I play my didgeridoo songs that are more rhythmic and energetic music, and I finish with belly dancing and playing the didgeridoo at the same time."
Tom Lange, the creator of the sound-awakening concept of healing, told Hughes that only one in 30 people experience the phenomenon.
"If one person does, then it is worth it," Hughes said. "Of the ones who have, some have picked up the didgeridoo to become sound healers themselves."
And playing the didgeridoo isn't easy - it requires circular breathing.
"Circular breathing is kind of a trick. You breathe in through your nose and out through your mouth at the same time, using your cheeks to force the air out your mouth," Hughes said. "There's a certain rhythm to it, and it is a very meditative experience."
Hughes combined playing the didgeridoo with belly dancing because it uses some of the same muscles, she said.
"Circular breathing uses the diaphragm, like when you do belly flutters and rolls," she said. "The sound makes the dance, and the dance makes the sound. The good thing is, you can't be off the beat."
Orca whales provided the inspiration for some of the songs Hughes plays on her didgeridoo.
"I saw a pod of orcas by the shore and put my didgeridoo part way into the water to play," Hughes said. "The first thing they did was disappear under the surface because that's where they go to communicate. All these new sounds started to come back up through the didgeridoo."