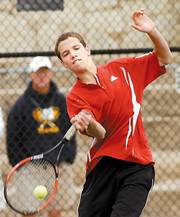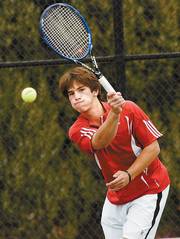 Steamboat Springs — Steamboat Springs senior Brian Aragon and junior Brian Burger were named to the Rocky Mountain News honorable mention All-Colorado tennis team Thursday.
The pair was Steamboat's No. 1 doubles team this season and finished third at the state tournament in Pueblo. Burger and Aragon went 4-1 during the tournament and finished with a 12-1 overall record.
Tennis team head coach John Aragon, Brian's dad, said he was excited that the two earned the honor. He called it "well-deserved."
"It just goes to show that they definitely are one of the best teams in the state," Aragon said. "It's neat to see other coaches, papers and sportswriters and know that these guys made an impact on them. They are a really good team."
Brian Aragon said he plans to continue his tennis career at the collegiate level. He's been contacted by from Mesa State College, among others. Aragon said he's training for college but has been slowed by a shoulder injury. He said he didn't expect the recognition.
"That's sweet," he said. "I figured one of our (singles) players would get that. It's a good way to go out. I haven't had anything like this until my senior year."
For Burger, the award will give him something to build on heading into his senior year. Steamboat will lose its No. 1 singles player in Andrew Hoing, and John Aragon said Burger will be expected to fill in as one of the top three singles players.
The postseason awards cap another successful season for the Steamboat Springs tennis team. The squad finished fourth at the state tournament, with Ramsey Bernard taking second place in No. 2 singles. The No. 2 doubles team of Jesse Schaller and Dylan Roberts finished fourth.
- To reach Luke Graham, call 871-4229 or e-mail lgraham@steamboatpilot.com