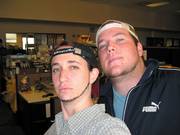 I started turning into a teenage werewolf at about 4:30 p.m. Saturday. At 4:45 p.m., I learned Halloween costume lesson No. 1 - do not put on fake nails before you put on the rest of your costume.
Halloween was a learning experience for a lot of people. Steamboat Springs residents learned that spray paint eats away Styrofoam and typical household products such as baking powder can be used in lieu of face paint.
Some lessons were harder to learn.
Apparently spirit gum (a liquid adhesive for applying facial hair and fake ears) burns really bad when you get it in your eyes. And you might not want to take your large, strong and overactive dog to the downtown stroll, no matter how cute he is in his Rainbow Gathering costume.
Fortunately, memories tend to vanish with excessive drinking. Most people I talked to at breakfast Sunday morning could not recollect the details of Saturday night.
The Old Town Pub Halloween party is my favorite event of the year. I didn't even mind standing in line to get in. Waiting is much more entertaining when a male mammogram machine walks by with a pregnant nun.
I love the creativity on display at Halloween. Inventive costumes I saw included the bird flu, all the characters from the old game show "Double Dare," the Invisible Man, the hairless fox and Dumpster divers.
I met Tyrone Biggums, the reoccurring crack addict from Chappelle's Show, at Steamboat Mountain Theater. He was giving out free dime bags and talking in Tyrone's squeaky voice.
I met another man who spent months making a gigantic headpiece out of papier-mache that looks like it is chewing the man's head. His friend made a facemask out of metal with padlocks on either side.
Men wearing scary masks always creep me out. I have outgrown my urge to wear revealing, sexy costumes for Halloween, but apparently others haven't. There were plenty of French maids and nurses about town.
Halloween is the perfect holiday for a town in which the residents already seem to live double lives with their multiple jobs. You can see your male boss in red lipstick and pigtails on Saturday night riding a fake pony. Then, on Monday at the office, he acts like nothing happened.
It's even better when Halloween lands on a weekday, because that means you get to celebrate it twice. Or, for a costume enthusiast like me, you can squeeze four costumes into three days - Teen Wolf at the prom, Connect Four, reporter Luke Graham and a Titanic survivor.
The biggest lesson I learned is you can put together a costume in 10 minutes on your way to breakfast (Connect Four) and chest hair can be really itchy.