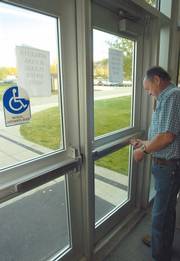 Steamboat Springs — Students' backpacks are no longer being searched at Steamboat Springs High School, but administrators and local law enforcement are changing the building's security indefinitely.
The high school was the target of a bomb threat last week.
"All of the outside doors are locked, except the main entrance," Principal Mike Knezevich said. "Visitors have visitor passes and need to check in at the office. We are making sure kids keep their backpacks on them at all times. If backpacks are left (unattended), they are picked up and searched, and the kids will have to come to the office to get them back."
Bomb-sniffing dogs went through the high school last week and found nothing suspicious.
The Steamboat Springs Police Department also deployed extra officers to the high school.
Steamboat Springs Police Capt. Joel Rae said the continued use of extra officers will be determined "day by day."
Extra officers were in the high school Wednesday. Debbi Funston, the school's resource officer, is at the high school from about 7 a.m. to 4 p.m. daily.
"We are trying to get back to some sense of normalcy here in the building," Knezevich said.
Last week, students' backpacks and bags were searched, but that stopped Wednesday.
Students will continue carrying their student planners with them when they leave class. Those planners act as a hall pass to let administrators know who is in the halls and at what time.
Only two bathrooms remain ulocked, and those bathrooms are being monitored.
The original bomb threat was found at 7 a.m. on Oct. 20 in a bathroom. Students have since told administrators they saw the statement on the afternoon of Oct. 19 but didn't report it.
Rae said the police department has followed up on leads but no arrests have been made.
"The investigation is ongoing," Rae said.