Scott Stanford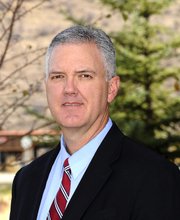 Scott Stanford is general manager of the Steamboat Pilot & Today. Call him at 970-871-4202 or email
sstanford@SteamboatToday.com
I lost my father on Sunday.
He lived more than nine months after being diagnosed in February with Stage 4 lung cancer. He went through 14 rounds of chemotherapy and five radiation treatments. He fought as hard as he could to extend his life.
In the end, he died peacefully at his home in San Antonio. My aunt called me Sunday night to tell me that his labored breathing had finally stopped.
I am sad that he is gone; I am relieved that his suffering has ended.
Tim Selby, associate pastor at the United Methodist Church, delivered a sermon Sunday about death and All Saints Day. Selby said that those we have lost remain saints in our lives, inspiring us with our memories of them. My father certainly was not perfect, but I take comfort in the notion of him as a saint, helping watch over me.
He certainly inspires me to warn against smoking. Dad smoked until the very end. The craving for another cigarette was greater than the violent coughing that always ensued.
I know smoking is a personal choice. I smoked for 14 years. I know how hard it is to quit. So, I won't preach. I will only say this - watching lung cancer suck life slowly and painfully from someone you love is pretty convincing testimony to the evil of cigarettes.
You're probably wondering how this relates to the newspaper. Here's how - obituaries.
I prepared Dad's obituary last week and promised the family that I would take care of getting it in newspapers in his hometown, the town where he lived most of his adult life and the towns where his children live. I condensed Dad's life to 325 words and e-mailed a copy of his obituary to five newspapers with me as the contact.
Then I started getting responses. Estimates to run Dad's obituary ranged from $93 to $500, depending on the newspaper. Some newspapers charged by the inch; some charged by the line; and some by the word. A photo would cost extra. I trimmed Dad's life from 325 words to 150. I started feeling guilty about removing the names of in-laws. I started feeling guilty about shortening the obituary to save money.
Newspapers have different business models and different policies. I am not in a position to judge. But I started to think, "Thank God, I don't have to ask people to do this."
The Steamboat Pilot & Today offers obituaries free of charge. I have a renewed appreciation of the value of this service. Helping families tell their loved ones' stories at the time of their deaths is one of the most important things we do.
Obituaries appear in the Pilot & Today on Sundays, generally on Page 3A. We try to accommodate all reasonable obituary requests, including photos. If we make a mistake in an obituary, we will re-print the entire corrected obituary. We announce deaths, memorial services and funeral services on the Happenings page in the Steamboat Today. There are no charges for any of these services. So long as I am editor, I will fight to keep it that way.
You can read Dad's obituary in Sunday's Pilot & Today - all 325 words of it.