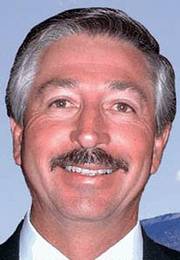 John Salazar has proven himself to be an effective representative for those of us who live in the Third Congressional District.
Since he was elected two years ago, he gained seats on three committees which are important, not only to Colorado in general but to the Western Slope, which relies on farming, ranching and tourism as our major industries.
John has been active on the Transportation and Infrastructure committee. He has fought for overdue highway improvements. He recognizes the importance of our highway system for all types of businesses in sending and receiving goods as well as the ability of tourists to reach their destinations. He also recognizes the importance of encouraging mass transit where possible and has demonstrated this by helping Steamboat Springs and Garfield County receive a boost in funding for public transit.
As a member of the House Agriculture Committee, John has played a major role in writing the 2007 Farm Bill. John has stated that energy development and the U.S. dependence on foreign oil is the single biggest issue facing the country in the foreseeable future. He has been recognized by the Denver Post as fighter for the inclusion of cleaner fossil fuel technologies and renewable energy production as a major part of this farm bill.
With his seat on the House Veterans Affairs committee, John has worked diligently for fairer treatment of military widows, cracking down on fraudulent claims for military medals and the expansion veterans' health care. For those of us who live in Northwest Colorado, this translates into a system that would provide healthcare for our veterans in this corner of the state and not 200 miles away, over high passes and bad roads. He has also proposed legislation that would permanently fund the Veterans Administration as a line-item in the budget. This would guarantee a set amount of funding to the VA rather than them relying on however much Congress could eke out from what is left over.
John Salazar is one of only four of our 435 congressmen and women who are actively involved in farming and ranching. He brings with him the ability to think and problem solve under pressure and is a voice for our Western way of life.
He has demonstrated that he is interested the needs and wishes of all the people of his district and not just those of the same political party by his vote to repeal the estate tax and has the support of the National Rifle Association.
Even the Denver Post, a large city Front Range paper, supports John Salazar, a farmer from a small town on the western slope, in his re-election bid by saying, "Salazar's freshman performance and keen interest in 3rd District issues has earned him re-election."
Please join me in re-electing John Salazar as the Representative from Colorado's Third Congressional District.
Jo Stanko is a longtime Routt County rancher.