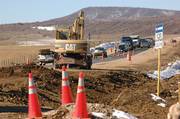 Steamboat Springs — In about two weeks, traffic flow on Colorado Highway 131 will return to normal.
"We're just cleaning everything up and making it look nice before we shut down for the winter," project engineer Brad Andrews said Wednesday.
Andrews works for Fort Collins-based Connell Resources, which was contracted by the Colorado Department of Transportation, to repair and expand three miles of Colo. 131.
The three-mile stretch begins near the Routt County Road 18 turnoff for Lake Catamount and extends west toward Oak Creek.
Andrews said work began on the stretch of highway in mid-May, several weeks later than an intended April start that was delayed by lingering snow and moisture.
After nearly six months of work, Andrews said Connell workers have completed improvements on the westernmost 2.1 miles of highway.
Crews will return in spring 2007 to complete work on the remaining stretch, which is paved and prepared for winter use.
Andrews said improvements to the 2.1 miles of Colo. 131 include widened shoulders and new turning lanes at intersections with adjoining county roads.
"We made a bunch of safety improvements," Andrews said, adding that, while the intent was to complete all three miles this year, wet earth was a constant factor.
"When we dug out the road, it was a mess," Andrews said. "We knew there was going to be moisture in the ground, but we didn't know there would be that much of it."
Andrews said crews are closing up shop because of coming winter weather.
"We didn't want to open up this last stretch of road and then get a big old snowstorm and not be able to pave it," Andrews said.
Andrews said he expects Connell crews to leave the site by the end of next week.
The change will be welcome for area residents, many of whom live on usually quiet county roads that became noisy, and in some cases dangerous, with diverted traffic during the summer.
"It was a big impact just from the standpoint of increased traffic," said C.R. 14C resident Maury Bunn. "We live on 14C because we want to live off the main drag."
Bunn said many drivers on 14C "did not heed the speed limit at all" and often passed other cars illegally and on blind hills.
"We called the Sheriff's Office a couple times," Bunn said, adding that cars would travel 50 mph despite the 35 mph posted speed limit.
The heavy use took a toll on 14C and other county roads in the area.
"It became full of potholes," Bunn said about 14C. Routt County crews graded and repaired the road Wednesday.
Naomi Hopkins has lived on Routt County Road 14C for nearly 30 years.
On the afternoon of Sept. 25, Hopkins said, a car struck her family's six-year-old German shepherd, Sasha.
Sasha died of a hemorrhage in a veterinary hospital the next day.
"We've had some landowner issues," Olson acknowledged, mentioning residents with driveways adjacent to repaired portions of the highway. "We've resolved those issues to (the owners') satisfaction."
Bunn said he does not blame Connell Resources for the increased traffic.
"Everything was handled pretty professionally," Bunn said. "They were doing the best they could to keep traffic moving. I have no complaints about that at all."
The improvements to the 2.1 completed miles of Colo. 131 cost $3.5 million, Olson said.
The entire project will cost $5.6 million.