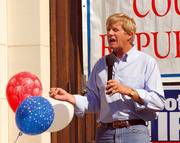 I have never met John Salazar. By all accounts, he is a nice fellow, but this does not qualify him to represent us in Congress.
While Salazar's ads paint him as a farmer and advocate for the Western Slope, his record reflects quite the opposite. As a Democrat, Salazar has "toed the party line." For example, his first vote in his first term was to make Nancy Pelosi Speaker of the House. He has been absent for votes that could have protected our interests. An example is his absence for a vote that would have eliminated the Death Tax, which is blatantly unfair and a great burden on the family farmers that he claims to specially represent.
Salazar has repeatedly voted against bills aimed at curbing illegal immigration and giving law enforcement necessary tools to enforce the law, instead giving only lip service to the issue and support for token measures.
Salazar has voted to raise income taxes by not extending the current tax cuts.
Salazar has opposed a host of bills that provide for energy production and has even opposed bills to allow the construction of much-needed gasoline refineries. Remember that the next time you fill your tank.
Salazar and his supporters will reply with a series of platitudes to justify this record, but the truth is that he is not representing the interests of the Western Slope.
By contrast, Scott Tipton was raised and lives in Cortez, where he operates a small business, and he offers common sense solutions to today's problems.
Tipton favors the permanent elimination of the Death Tax. People, particularly farmers, have worked hard and paid taxes throughout their lives to acquire their farms and other possessions. It is just not fair to tax them again when they die.
Scott understands the strain put on our systems, like the healthcare system and law enforcement, by illegal immigration. We must protect American workers ousted from their jobs by illegals and protect the middle-class taxpayer from this continued drain. We must secure the borders as best we can and try to streamline the immigration systems for those who do wish to follow the rules and become American citizens.
We must make Social Security secure again. The system is now racing headlong into bankruptcy, but Salazar is unwilling to consider any solution. Rather, he claims that Tipton wants to cut current benefits. This is patently false. What Tipton wants to do is consider alternatives to save the system for our children and grandchildren.
Tipton supports sensible, low-impact production of oil and other resources and allowing construction of gasoline refineries (none have been built in the U.S. in 30 years) to save you money while preserving our environment.
On taxes, Salazar wants to preserve the current system while increasing the rates, while Tipton is actively looking for a simpler and fairer system that would eliminate the IRS as we know it.
In the final analysis, Salazar is just not doing a good job of representing folks like you and me. He should be replaced with a man like Scott Tipton, who is more interested in serving our interest than in kowtowing to his party.