Dedicated local kayakers like Chan Zwanzig have one thought for folks who think Ski Town USA is merely a winter destination that can only boast fluffy powder.
"You know what? Sport to sport-the kayaking in Routt County is better than the skiing," Zwanzig said.
He should know. For more than 30 years, Zwanzig has been paddling the loads of fluffy powder that eventually melt and come barreling down the Yampa River. He understands that Steamboat's location situated near the headwaters of the Yampa, Colorado, Green and North Platte River drainages makes it a boater's paradise during the annual Rocky Mountain runoff. It's no mistake that this ideal setting inspired Zwanzig to found the Wave Sport Kayaks store in Oak Creek and to entice Eugene Buchanan, editor-in-chief of Paddler Magazine, to base his publication in Steamboat Springs.
Even within the city limits, Steamboat offers world-class kayak runs that satisfy both intermediate and expert boaters. The technical Class V section of Fish Creek that rages from beneath Fish Creek Falls into the Yampa River attracts some of the world's best professional kayakers every year for the Paddler Magazine Pro Invitational creek race, which this year is May 29.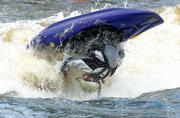 Seasoned locals also enjoy the stunning Cross Mountain Gorge section of the Yampa, a desert canyon with high-volume flows that create a series of large waves and hydraulic features. Cross Mountain Gorge is located just west of Maybell, a small town 30 miles west of Craig on U.S. Highway 40. Consistent dam releases also make the steep Gore Canyon section of the Colorado River a favorite run from the spring through the fall. Gore Canyon is east of Kremmling, about 50 miles southeast of Steamboat on U.S. Highway 40.
Kayakers looking to improve their skills need look no further than the Class II/III whitewater section flowing through downtown Steamboat. With no continuous rapids to speak of, the "town run" features the infamous A, B, C, and D-Holes, man-made "surfing" spots installed over the last 25 years to create retentive waves at higher flows that attract freestyle play-boaters from across the state. Even at these high flows, the town run retains its intermediate nature. All the holes can be easily portaged, making the run an excellent place to learn the sport.
The Yampa's slope eases considerably and the river gains substantial volume as it flows west out of Steamboat to its meeting with the Green River in Dinosaur National Monument, making many sections popular for beginner flat-water floaters and overnight rafters.
Steamboat has two options for beginner to advanced kayak instruction and clinics: Backdoor Sports at 879-6249 or Mountain Sports Kayak School at 879-8794. Check the Yampa's daily river flow on the Web at the U.S. Geological Survey site: http://waterdata.usgs.gov/co/nwis/rt.