Biking - be it on a paved road or a mountain trail - is one of the most popular recreation activities in Northwest Colorado.
The Steamboat Springs Town Challenge Mountain Bike Race Series offers a competitive, well-organized series for all ages and ability levels.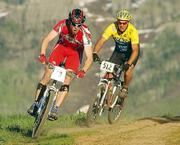 Other maintained trails and paved roads are littered with cyclists from May, when the trails dry, to the first snowfall of the winter season.
"I think Northwest Colorado has a lot to offer," said Gretchen Sehler, director of the Town Challenge Series and race director with Rocky Peak Productions. "We're getting our name on the map."
The Town Challenge series has grown in popularity in the past decade, and this year's series utilizes trails on Emerald Mountain and Mount Werner, both in Steamboat Springs.
The series is open to all ages and ability levels, and Sehler expanded the classifications in 2005 to accommodate the growing number of children involved.
"I think it's just awesome that the interest is there," she said.
The single track and dirt roads at both sites are open for non-racers when an event isn't going on. Cedar Mountain and Sand Rocks in Craig offer more mountain biking options. Cedar Mountain is a more technical ride.
The Rio Grande Mexican Restaurant will host the third annual Rio 24 Hours of Steamboat mountain bike race, in which individuals or teams ride a loop on Mount Werner as many times as they can in 24 hours. Spectators are encouraged to watch all the mountain bike races. The Rio 24 Hours of Steamboat is June 10-11.
For families or those who want a mellow day on a bike, the Yampa River Core Trail in downtown Steamboat is a fun way to follow the Yampa River, see the area's hot springs and get a feel for the town.
As roads are improved across the area, the skinny tires of road bikes are visible anywhere along U.S. Highway 40 and other area roads such as Routt County Road 129 toward North Routt or Colorado Highway 131, which heads toward South Routt.
To reflect the growing interest in road riding, Rocky Peak Productions is staging the second annual Kent Eriksen Tour de Steamboat on Aug. 12 It won't be a race, but it will be a challenging century ride over Rabbit Ears, Gore and Yellow Jacket passes that will challenge even the most fit rider.
Steamboat Springs Town Challenge schedule
May 24 Howelsen Hill Bluffs Circuit
June 7 Mount Werner Thunderhead Hill Climb
June 21 Howelsen Hill Soulstice Cross Country
July 5 Mount Werner Sunshine Loop
July 19 Howelsen Hill Eye to Eye Cross Country
Aug. 2 Howelsen Hill Dog Days of Summer Cross Country
Aug. 16 Buffalo Pass Hill Climb (early start)
Aug. 25 Mount Werner Valley View Circuit (early start)