Scenic mountain peaks, lush aspen groves and raging streams and creeks serve as the backdrop for many runs in Northwest Colorado.
Trail running and road running are popular recreational activities for tourists and residents alike.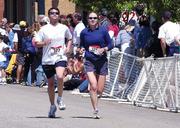 For runners or joggers interested in raising their heart rates, they can take advantage of the large number of maintained area trails or paved surfaces where leashed dogs are allowed.
Spring Creek Trail is a popular, easily accessible trail near downtown Steamboat Springs.
In Craig, runners can access trails and roads on Cedar Mountain and Sand Rocks.
Regardless of trail locations, runners are reminded to share trails with mountain bikers and horseback riders.
The highlight of the competitive racing scene in the five-county area of Grand, Jackson, Moffat, Rio Blanco and Routt is the Steamboat Springs Running Series, which lasts from May through September.
"We are the running series for all of Northwest Colorado," director John Chapman said.
The 14-race series includes events of all distances in Hayden, Steamboat, on Rabbit Ears Pass and in Grand County.
The Wild West Relay, a 24-hour race from the Front Range to Steamboat, is a new addition to the series this year, though it is not a new event to Colorado.
"A lot of people walk the races, but it's all about finishing the course and completion," Chapman said.
The series has a devoted local following, but Chapman estimates that 4,000 runners will take part in this year's series, and 30 to 40 percent of them will be out-of-town guests.
Registration for all series races - except the Steamboat Marathon and the Wild West Relay - is available online through www.active.com or at Christy Sports in Steamboat Springs. Pre-race registration is $20. Race day registration is $25.
Most of the running series races are Saturdays or Sundays.
The series' Web site, www.runningseries.com, offers quick answers and additional information.
Runners new to the area or visiting from lower elevations are reminded to prepare and plan accordingly when attempting more strenuous runs in Northwest Colorado.
Those who venture into secluded backcountry trails need to prepare for the worst conditions, bringing water, food and a rain jacket in case of commonplace afternoon thunderstorms.
Also, if a runner plans to go out alone, he or she should be familiar with the trail and let others know where he or she plans to go as an emergency back-up plan.
Steamboat Springs Running Series 2006 schedule
May 6 Spirit Challenge
May 20 Hayden Cog Run
June 4 Steamboat Marathon, Half Marathon, 10K
June 17 Hot Springs Short cut
July 1 Spring Creek Memorial
July 4 Steamboat Sprint
July 9 Mountain Madness Half Marathon
July 15 Howelsen Hill 8-miler
Aug. 5 Mount Werner Classic
Aug. 11-12 Wild West Relay (24 hours)
Aug. 20 Continental Divide Trail Run
Sept. 3 10K at 10,000 feet
Sept. 9 Kremmling Road Kill Half Marathon
Sept. 24 Pilot Run for Literacy