Kremmling bills itself as the 'center of the universe'
Whether it be laser shows projected on rocky cliffs, cliff golfing, horseback riding, mountain biking, hiking, fishing or four-wheeling, Kremmling has it covered.
Kremmling is a relatively undiscovered gem that sits in the heart of the Arapaho National Forest near the confluence of three major rivers.
"People are starting to realize we're an affordable area to stay the night and a place to do lots of great things," said Katrina Wright, director of the Kremmling Chamber of Commerce.
The area boasts gold-medal fishing waters in nearby stretches of the Blue and Colorado rivers. The Big Muddy river also provides unlimited opportunities for anglers. Local businesses such as Fishin' Hole and Master Bait and Tackle can provide visitors with the advice and equipment needed for a successful fishing trip.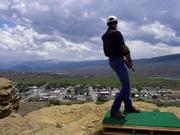 "We have excellent fishing," Wright said.
Rivers and streams aren't the only water attractions in the Kremmling area. The Williams Fork, Wolford Mountain and Green Mountain reservoirs offer not only fishing opportunities, but plenty of boating activities as well. Visitors to Wolford Mountain Reservoir can rent boats, water ski and take advantage of the lake's campgrounds.
If water isn't the plan, the Arapaho National Forest offers abundant hiking trails and camping areas. Kremmling also is surrounded by a wealth of untapped mountain bike trails, Wright said.
"Nobody is really aware of them. The cool thing about mountain biking in Kremmling is that it's pretty much undiscovered," she said. "You can really get out there and explore."
Wright said visitors can stop in at the chamber for a free map of the area's mountain bike trails or a trail map will be mailed to those who request one.
For those who prefer motorized recreation, the Kremmling area also boasts designated off-highway vehicle and all-terrain vehicle trails, including a challenging hill climb popular amount dirt bikers.
"We have trails for motorcycles, 4-wheeling, everything," she said.
Kremmling once again is hosting the Mud Bog, an entertaining competition pitting off-highway vehicle users against each other as they race through a giant mud pit.
This year's Mud Bog will be held June 18 during Kremmling's annual "Kremmling Days."
Wright said Kremmling Days is June 16-18 and will feature a laser show Friday and Saturday nights.
"The actual show will be projected onto the cliffs," she said.
Over the course of the weekend, Wright said the town plans on having live music, a cliff golfing tournament and other fun events.
"We're going to have our wide variety of live music, including an orchestra, a beer garden, food and craft vendors," she said.
Most of the events are free although cliff golfing and the demolition derby do require a registration fee and admission fee. Wright said the cliff golfing is a summer favorite because golfers and non-golfers get to launch golf balls off surrounding cliffs in an attempt to land a hole-in-one some hundred feet below.
"It is so much fun," Wright said.
Kremmling Days also feature a 10K trail race and a 5K run/walk.
Kremmling's location also makes it a good jumping-off point for many other popular resort towns and locations in Northwest and Central Colorado. Kremmling is less than an hour from Steamboat Springs and Grand Lake and less than two hours from Winter Park, Vail and Breckenridge.
"We call ourselves the 'Center of the Universe,'" Wright said.
Wright said Kremmling is excited about a new visitor's center that should be up and running in time for summer visitors to stop by. The new center will be on the town square and will offer tons of information about the area and what there is to do.
"We are the sportsman's paradise. There's so much happening here," she said.