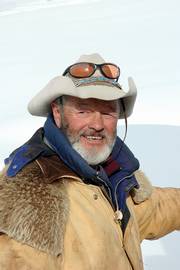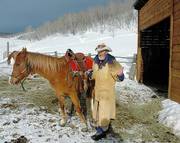 Ray Heid is the embodiment of the nearly mythical figure that has come to symbolize Steamboat Springs - the cowboy skier.
It all started for Ray with a big old swayback buckskin horse that his family kept at the house in old town Steamboat Springs.
"We'd let old Banjo graze and then all of us would climb right up his mane and onto his back," Heid said.
He grew up in town, but Heid came from pioneer stock that recognized the business end of a cow. His great-grandfather was Grouse Creek Jones, who ranched out toward Blacktail Mountain. His mother was Ruby Ralston, the sister of two other influential Routt County women - Hazie Werner and Bonita Bristol.
Heid's grandfather was Patrick Henry Heid, who opened C&H market in downtown Steamboat with a partner. Their marketing slogan was "Shop with the boys" and later they shortened the name of the market to simply Boys Market - it was once a landmark business in Steamboat. The original grocery store location was later absorbed into F.M. Light & Sons.
By the time he was 6, Ray and his best buddy, Carmen Holly, were trailing saddle horses down from the pastures on Fish Creek to Lloyd Holly's Circle 4 Stable. It stood where Soda Creek Mercantile is today. From there, the Hollys offered trail rides to summer visitors.
And of course, there was skiing. From a young age, the Heid kids were riding the old boat tow ski lift at Howelsen Hill and learning to sweep down the old downhill run that arced from above the sandstone quarry on Emerald Mountain to River Road. Heid never forgot the lessons he learned under the stern tutelage of the great Olympic skier Gordy Wren. Before Wren would allow his young charges to ski the downhill, they had to boot-pack the entire trail.
Skiing was so important to the community in the late 1940s and early 1950s that it was part of the public school curriculum, Heid said.
"They called roll at Howelsen Hill," he recalled. "They even gave letter grades in skiing. I got an A in downhill, an A in jumping, an A in slalom and a C or C-minus in cross-country running."
By the time he turned 12, Ray was herding sheep and cattle for Lloyd Gilroy on Soda Creek.
That was the summer the Heids' neighbors on Hill Street, Jack and Uintah Raley, helped Ray make his first pair of chaps. Ray had ordered a cowhide from Katherine Harwig at Harwig's Mercantile and Mrs. Raley, a native Ute Indian, helped Ray with the leatherwork.
"She took her father's chaps apart for the pattern," Ray recalled. "When I got the hide, I discovered it had Lloyd Gilroy's brand on it. I had to convince him I wasn't a rustler!"
To this day, Ray still wears those well-worn chaps, with Gilroy's Bar JF brand barely discernible in the leather and a silver buckle from his late father on the belt.
After high school, Ray and his brother Delbert "Delby" Heid bought a mule and went to work skidding logs in the timber camps of North Routt County. They made enough money to go to college at the University of Wyoming in Laramie.
They became regulars on the college ski team that placed third at the NCAA championships. In those days, which college skiers competed in all four events - downhill, slalom, ski jumping and cross-country.
After graduating from the University of Wyoming, Ray stayed to coach the college ski team, but there was no money in the job. After being turned down for a raise, he went to Winter Park in 1964 to work on a master's thesis on ski area management and development. He was there just a short while when he was recruited to relocate to Ruidoso, N.M. There, he taught the Mescalero Apache Indians how to operate their ski area, Sierra Blanca (now known as Ski Apache).
Ray figured he'd spend six months in New Mexico.But the mayor of Ruidoso fixed him up with a date with a strong-willed German ski instructor named Franziska, and they ultimately married.
Ray managed three ski shops in New Mexico, gradually building up equity ownership. Later, he and his financial partner acquired three more ski shops in Breckenridge and had exclusive rights to rent skis at the growing Colorado ski area for seven years. Business boomed until Summit County hit a dry streak and snow was marginal for three straight years.
In the meantime, Delby was running the ski shop at the base of the fledgling Storm Mountain ski area in Steamboat and grooming the slopes on the side. He also purchased a little ranch bordering the National Forest on Routt County Road 62, which winds from Clark to the south side of Steamboat Lake.
Ray was so busy in that time, he often flew between his shops in Breckenridge and New Mexico. "I wasn't skiing at all," he said, "and that wasn't why I got into the business."
When Delby died in December 1985, Ray and his son, Perk, moved to Del's Triangle 3 for the winter to get re-established in Steamboat, and Heid found himself practicing his original profession - leading visitors on horseback rides. The next summer, Perk's sister and Franziska joined them.
"My daughter said, 'Dad, we're going to Steamboat to make a living riding horses?'" Ray recalled with a laugh.
Heid drove a snow-grooming cat for the Steamboat Ski Area in the winters, but he was driving home to Clark twice a day to feed his horses. And pretty soon, he got to thinking maybe he should find out whether he could persuade winter vacationers to visit the Triangle 3.
"It wasn't long and I was leading two trips a day," Ray said.
Del's Triangle 3 offers wilderness pack trips in summer and guided elk hunting trips in the fall. But the experience of winter horseback riding continues to draw large numbers of people who are searching for a sense of the Old West.
The walls of Heid's family room are papered with newspaper and magazine clippings produced by visiting writers and photographers. They are sent to Del's Triangle 3 by the ski area public relations department because they know Heid will charm the city slickers.
Dudes show up at Del's Triangle 3 and are immediately fitted with their own chaps and well-worn cowboy hat. And by the time Heid gets done telling stories about the wild and woolly days in Browns Park, and ski racing against the likes of Willy Schaeffler, and growing up with Buddy Werner, and surviving the Routt Divide Blowdown - well, they feel like cowboy skiers too.
It's an experience you can't put a price on.
Ray turned 68 in October, and he's not slowing down. Well, maybe a little.
"This is the first year I won't have skied a million vertical feet," he said. "But with this much powder, I guess it's quality over quantity."
When he can't get to Mount Werner with his Telemark skis, Heid reverts to the artwork he traces over and over on the hill just opposite his horse barn. There, partially obscured by the last storm are two sets of parallel herringbone tracks climbing the slope about 75 feet apart. And in-between them are ribbons of perfect figure-8 turns. Most skiers would put in a series of switchbacks and climb the same route all winter if they were of a mind to "earn their turns."
Not Ray - the pattern of the herringbone tracks is more aesthetically pleasing to him.
The last weekend in January, Ray and a friend skied to the summit of Hahn's Peak. And before the winter is out, Ray and Perk have a promise to keep with each other - they want to spend another night in the snow cave they built on Sand Mountain. They'll return to the broad-shouldered mountain again June 1, or maybe a little later this year.
"We'll ride horseback to the edge of the snow at the bottom of the cliffs," Ray said with a sly smile. Dismounting, father and son will untie their skis, step into the bindings and slide out onto the broad runout of the big bowl on Sand Mountain's north face. There, high above Steamboat Lake, they'll put down the first tracks of the sixth month of the year.
Once a cowboy skier, always a cowboy skier.