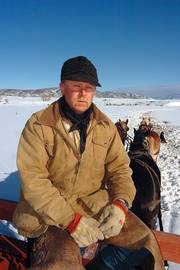 Matt Belton will tell you, "There ain't no Sundays west of Omaha."
For Belton, the saying is true; he has the same ranching duties whether it's the weekend or a holiday.
Every day starts mostly the same way for Belton. The only thing that really varies is the weather, but cold temperatures don't stop him.
The weather doesn't stop his horses, either. Belton is the last rancher in the Steamboat Springs area who still feeds his cattle using a team of horses, said C.J. Mucklow, Routt County's director of Colorado State University Cooperative Extension.
When asked why he doesn't use a tractor instead, Belton said, "Horses start at 40 below."
Warm or cold, Belton and his helpers start the morning at Sidney Peak Ranch, where Belton leases the land as a place to keep his cattle, which numbered about 80 this winter.
On one winter morning, the feeding routine plays out.
Four horses - two black Percherons and two tan Belgians - wait, harnessed to a trailer. Belton and crew stand between the trailer and a pile of hay bales. At the top of the bales, Belton's 6-year-old son, Tell, stands and shows his missing-teeth grin as Custer the dog runs around the bottom.
Using handheld hooks, Belton and the others, including his wife, Christy, heave about 40 rectangular hay bales neatly onto the trailer. When they're all finished, everyone climbs onto the hay pile and finds a place to sit; the trailer's path is bumpy.
Belton stands at the front, holding the reins so he can guide the horses. He is wearing classic work clothes that could be from 2006 or from decades before: tan chaps, jeans, a tan work coat and a black hat. The only truly modern-looking part of his outfit is his sporty sunglasses, meant to block the glare from the snowy field. Under the sunglasses, Belton's reddish mustache begins to gather ice.
The horses follow Belton's commands and direction without fault. As they move ahead, bells on their reins jingle brightly. The bells are reminiscent of safety precautions from the buggy days, Belton said.
When the trailer arrives to where the cows stand, everyone jumps up and starts cutting the strings around the bales. Tell uses a little handheld chopper to do his part. The cows come up and start feeding on the loose hay.
After feeding the cattle, Belton and others walk over to an iced-over pool of water and use pitchforks to break a hole so the cattle can drink. He then returns the horses to the barn.
Belton is an unassuming man. He marks the fifth generation of Beltons living in Routt County. And at 36, he is one of Steamboat's youngest ranchers, Mucklow said.
"What's really great about Matt and Christy is that they're young and trying to find a way to make a living in agriculture," Mucklow said. "It's great to see a young person stay in the business. The culture of ranching is ingrained in Steamboat, but he's the real deal."
Belton grew up with agriculture; his father sold cattle. During his high school spring breaks, Belton helped a friend calve.
"I've always done this stuff," Belton said. His first profession was horseshoeing, but after nearly 15 years, his shoulder pain got to him.
Belton became a rancher because "it's a good way to live. The lifestyle, the work is very rewarding."
Belton's aware that one of the reasons he is considered a younger rancher is because area children are not following in their parents' agricultural footsteps. Belton hopes that Tell, his only child, goes into ranching.
"I hope he stays in the business, but we can't make him if he doesn't want to," Belton said.
Christy agrees. She said that Tell doesn't always come along for feeding time.
"We don't want him to hate it," she said. Sometimes, though, the family makes the event special by letting Tell ride behind the trailer in a sled.
Tracy Bye, a first-grade teacher who has Tell in her class, is among the family's many helpers. Bye has become closer to the Beltons, a family she admires. She also has gained an appreciation for the ranching lifestyle.
"It's the way life should be," Bye said. "They have inner integrity that so many people are missing right now."
Bye can see that integrity in Tell, she said, in addition to a sense of wonder for life and nature.
"Some kids don't look at the clouds anymore," she said. "He doesn't take it all for granted."
Ranching, in addition to the family's outfitting business, keeps Matt Belton busy. Hunting is the only hobby that Belton says he has time to do.
Belton said he is thankful to his wife, who helps out with the agricultural work and also works in real estate.
"I couldn't do it without Christy," he said.
Despite the busy days and continual work, Belton knows he will remain dedicated to ranching.
"I wouldn't imagine doing something else."