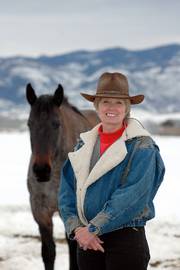 Marsha Daughenbaugh was going to leave.
After she graduated from high school in 1971, Marsha thought briefly that she might be ready for a new adventure.
"I got in my car, and I was going to travel," she said. "But then I got sick, and I stayed around."
Marsha is still around. She lives with her husband, John "Doc" Daughenbaugh, on the Rocking C Bar Ranch, a cattle ranch near the base of Elk Mountain that her family acquired more than a half century ago. Her father, 88-year-old Raymond Gray, is there too, as is her daughter, Adonna, Adonna's husband, Troy, and their two children - Leah, 2, and Levi, 8 months.
That puts Marsha at the center of what is becoming more and more of a rarity in Routt County and the rest of the country - an active, multi-generational ranching family.
"It has been neat to come back to Steamboat and for my parents to let us be a part of the ranch," said Adonna, a vice president at Alpine Bank. "My mom makes a big effort to let us know they want us here, that they want us to be part of this ranch. She has a strong vision for the ranch and that is to keep it in the family and to keep it in agriculture."
It's no surprise that Marsha would have such a vision. She has worked the land all her life and has spent her adulthood serving as an advocate for ranchers and their families.
Since 2003, she has served as executive director of the Community Agriculture Alliance. Before that, she spent more than 20 years working with the Agriculture Stabilization and Conservation Service and later worked for the Farm Service Agency.
"Agriculture is a good life," Marsha said. "It's a life that I wish we could see more people get the opportunity to have."
Marsha was born into ranching. Both sides of her family came to the Yampa Valley from Nebraska during the Depression - her mother's family came in 1937 and her father's in 1939. She said her father was a teenager when he drove a tractor pulling a wagon loaded with household goods from the eastern plains of Nebraska to the Yampa Valley.
Her father's family came to work as hands on a ranch in the Lower Elk River Valley.
Her grandmother, Sena Baalhorn, was the matriarch of the family. "Sena said, when they came over (Rabbit Ears Pass), she thought she had died and gone to heaven," Marsha said. "But then they had an 18-inch snowfall, and she thought she had died and gone to hell."
Sena, who died in 1996 when she was 101, became a role model for Marsha.
"She was a very strong woman, physically and mentally," Marsha said. "She persevered through some real hardships. She was very independent - the latter part of her life she lived by herself at her home in Craig.
"I learned from her that life on a ranch was hard work, but that it also was very rewarding."
She also learned growing up that although ranches were separated by acres and acres of pastures and miles of roads, they were connected. The families who ranched the Elk River Valley had a tight-knit community.
"There wasn't a bit of organized activity for kids like there is today, but there was plenty to do," Marsha said. "Looking back on it, there was a whole group of people who helped raise us. They hugged us when we needed to be hugged and slapped us upside the head when we needed to be slapped upside the head."
Marsha, an only child, admired her dad. "Dad was a real cowboy," she said. She spent as much of her childhood on horseback as possible.
She loved the Elk River Grazing Association cattle drives. The association was composed of 12 families with 1,200 head of cattle that would graze on pasture in the summer before being driven to the sale barn in Steamboat in September.
After graduating from high school, Marsha quickly realized she wanted the life her parents had. "I knew I wasn't going to college," she said. "I wanted to find someone who was interested in working the land."
Marsha was working at a deli where Soda Creek Mercantile is now. Doc was friends with the meat cutter at the deli and would come in the store occasionally.
"We met in the summer of 1972," Marsha said. "I went out with him, and he just swept me off my feet."
Doc, who grew up in Pennsylvania and served in the Marines in Vietnam. After completing his service, he came to Steamboat and never left. The young couple was married in 1973, and quickly they had a family. Adonna was born in 1974 and Nate was born in 1975.
The couple had an interest in ranching and Marsha's parents obliged. "Doc and I wanted to be on the ranch, and my folks wanted us there," she said.
Life wasn't always easy. Marsha's mother died of cancer in 1975, and in the late 1970s, they went through a couple of bad years on the ranch. "Doc was driving a gas truck for YVEA at the time, and we were trying to get through a bad year in agriculture, she said. "We made a conscious decision that we needed Doc to be on the ranch full-time and that I would go to work."
Bob Childers hired Marsha to work for the Agriculture Stabilization and Conservation Service, the Department of Agriculture agency primarily responsible for administering the farm commodity price and income support programs and conservation cost-sharing programs. Marsha the rancher had become Marsha the rancher's helper.
She relished the job.
"Any chance to represent the agency, I raised my hand," she said.
She quickly came to understand the disconnect between the people who worked the land and the people who set policies that affect the people who work the land.
"What I found so often when I went to Washington was a complete lack of knowledge about the land and the people who work the land," she said. "So many of the decisions are being made by these young aides who have never been to see the land, the ranches in the West they were making decision about. I often thought I should be bringing milk and cookies with me to Washington."
She enjoyed the work, but in 1994, the Department of Agriculture was reorganized. The ASCS disappeared, and the Farm Services Agency was created. Many county-level offices were closed, and regional FSA offices were created. Marsha stayed with the agency into 2003, when the FSA wanted to transfer her to Bent County. She decided to go to work as the third executive director for the Community Agriculture Alliance.
The Ag Alliance is a nonprofit organization formed in 1999. Its mission is "to preserve the agricultural heritage of the Yampa River Valley by initiating, supporting and encouraging actions, programs and policies that mutually benefit and connect agricultural producers and consumers." In simple terms, the agency works to ensure that agriculture remains a vital part of the Yampa Valley, even as the resort and development industries grow.
One of the main things that the Ag Alliance helps to foster is communication between ranchers and those in residential and commercial development.
"My dad's generation, they just said, 'No way, I'm not going to talk to (developers and Realtors)," she said. "But we had to recognize that they provided an important component of our economy. They provided the jobs that allowed many of those in ranching to stay here.
"Agriculture and development can co-exist, they are compatible. But we have to talk to each other."
Education is a major component of what Marsha does now. The Ag Alliance sponsors a course at Colorado Mountain College called Land Stewardship 101 and offers ranch tours to third-graders. The agency partners with Steamboat Ski and Resort Corp. for the annual hay auction and Ranch Rendezvous at the Steamboat Ski Area. The organization promotes agriculture products and Marsha gives presentations to anyone who will listen. "People need to be well educated so that they can be good ambassadors for the agriculture life and the agriculture lifestyle," she said.
Few can match Marsha as such an ambassador.
"She's really a neat person," Adonna said. "Not only does she talk the talk, she walks the walk."
Today, the Rocking C Bar Ranch is a Limited Liability Partnership run by the family. Doc and Marsha lease pasture for cattle grazing in the spring and summer. Raymond still does the spraying and monitors the hay operation. Troy is a guide and outfitter for deer and elk hunting on the ranch.
The ranch is always open to visitors - another chance for Marsha to educate people about ranching and the lifestyle.
If Marsha has any regrets, it's only that she doesn't get enough time with her horses. The ranch has seven of them. But overall, she wouldn't trade what's come her way for anything.
"I guess I'm lucky enough that I'm able to accept what has come my way," she said. "I don't consider what I do a job. It's a passion."
As Sena was a role model for Marsha, Marsha is a role model for her daughter.
"It has been amazing to see what they have done with the ranch, to see them accomplish their goals," Adonna said. "It makes you think, 'I hope we can live up to what they have done. I hope we can do it, too.'"