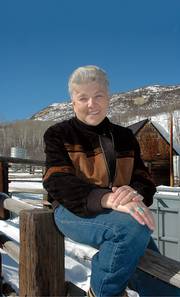 Linda Long doesn't like to dwell on the fact that she had cancer.
She would be surprised if more than a few dozen people she knows ever knew she was sick a day in her life.
And yet, as she looks back on her 18 years of staring death in the face over and over again, the one thing Linda Long can dwell on is her family.
"It was the ups and downs that were so hard for my family. It was just one of those cancers that just spread everywhere. My husband was an awesome supporter. So were my parents and my grandparents. I couldn't have done it without them," she said.
Through it all, Linda knew what she wanted from her life. She wanted to be a veterinarian, she wanted to be a great wife, and even more than that, she wanted to be a great mother.
"I never wanted my two sons to remember their mother as always being sick and laying on the couch," she said.
Linda was married at 18 and was pregnant with her first son a year later. At an age when most people these days are contemplating college courses or other alternatives, Linda was contemplating life. She was contemplating her new marriage and more than anything, she was contemplating the word "cancer."
At 19, Linda was told by doctors there was something wrong with her. In the 1960s, no one said "cancer."
Yet, for the next 18 years, Linda Long would never see a three-year period that was not riddled with some sort of cancer - lung, ovarian, kidney, stomach, spine or breast.
"I never expected to see (David)," she said of giving birth to her healthy son while she was sick.
Yet, as she looks back on her life, Linda is sure of two things: Cancer does not define her life, nor does she regret a thing.
What defines her life is her community activism.
Anyone who has lived in Routt County or South Routt County or has been to a county fair knows Linda Long, or at least has benefited from the tireless hours Linda has worked making the lives of her fellow community members better.
Linda is a fourth generation South Routt resident.
Both sets of her great-grandparents came to Egeria Park, near Yampa and the Flat Tops.
Linda spent several years in that part of the county before her family moved to Steamboat, where her father became a custodian for the schools and her mother worked in the schools' kitchens.
Linda met her husband of 42 years, David "Dusty" Long, while they were in high school. The couple was engaged in 1963, and married in 1964.
With the unwavering support of her husband, her parents and her family, Linda managed to keep the bad days at bay.
"I started volunteering to help the kids of Routt County," she said.
During the past 30 years, Linda has worked as a Boy Scout leader, a 4-H leader and a Soroco High School volunteer. She has served on the South Routt Medical Center Board, The South Routt School Board and the Routt County Fair Board.
All the while, Linda ran a household, was a loving wife, mother and daughter, and has been providing long-term care for her elderly family members, just as they cared for her when she was younger.
Linda and her husband live on the 600-acre ranch her husband was born and raised on near Trout Creek, still raising sheep, cattle and hay.
She also cooks for weddings, reunions and will do almost whatever people call and ask of her.
"I'm 60 years old, and I live like I'm 20. I've reversed my life," she said. "It's almost like I've had two lives. I look back and realize how lucky I am to be alive and to be living in the most beautiful place on the earth."
For all her hard work, Linda, who says she does not understand why anyone would want to read about her life, has won countless local awards honoring her selflessness and gifts to the communities she has touched.
In January, Linda was honored by the Soroco High School 11s Club as an outstanding volunteer. She was named the 2003 Fair Person of the Year by the Colorado Association of Fairs and Shows and was the 2004 Leckenby Award recipient. She won the 2000 Colorado Association of School Boards McGuffy Award, given to outstanding School Board members.
Although she is appreciative of the recognition, Linda does not like the attention. "I could name five other people in this county that deserve to be honored before me," she said. "It's overwhelming in a sense because I never traveled. I never worked. I've never done anything."
Most people who know Linda would disagree.
In 2001, Terry Doherty, a Routt County Fair Board administrative assistant, nominated Linda for the Outstanding Fair Person of the Year, saying Linda deserved the honor because she "exhibits quality and meticulousness."
"She works endlessly and doggedly until the assignment or task is completed to utter perfection. She is a wealth of information and experience who appropriately applies such to every new challenge she tackles," Doherty said.
Longtime Routt County resident Jim Stanko couldn't agree more.
"I saw the dedication and work Linda put into the county fairs. She was one of the leaders. If it wasn't for her, I doubt there would have been a county fair," he said.
"She's one of these people that jumps in and helps whenever she can. As long as I've known her, she's always enjoyed and is good at making community things happen," Stanko said.
"She's one of the true locals that deserves the recognition she's getting. If there is such a thing as a true local, she is one," he said. "There aren't very many of us left."