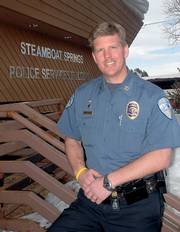 Joel Rae has seen some very ugly, devastating things during his time as a police officer. But he also has seen beautiful and hilarious moments, as well.
Rae has learned that people will call the police for absolutely anything. That includes a bridesmaid panicking because the groom's ring is stuck on her finger.
Several years ago, while working as a patrol officer in Louisville, Rae was sent to a house for that exact reason: A wedding ring that was on the wrong finger and wouldn't budge.
"I remember it was a Sunday. This woman, a bridesmaid, had put the groom's ring on her thumb so she wouldn't loose it. But she couldn't get the band off her thumb. When I got there, we put ice on it, we rubbed it with dish soap - nothing was working. Finally, we tied a piece of dental floss around her finger so tight that we got the ring off," he said.
"It was the biggest day of the bride's life, and to her, that was the worst thing that could have happened. To me, it felt good to help someone like that. Plus, it was entertaining," he said.
Rae, 37, has been a police officer with the Steamboat Springs Police Department for a decade. He and his wife, Amy, decided a small town, similar to where they grew up, was where they wanted to raise their two children, Megan, 13, and Austin, 10.
"My wife and I had been here a few times, and we just fell in love with it. I was from a small town. Amy was from a small town. We really enjoyed the small town atmosphere. Steamboat is a wonderful place," he said.
One of the Rae's first memories of Steamboat was when the young couple spent their one-day honeymoon here more than 18 years ago.
Rae joined the U.S. Marine Corps at 18, the same year he married Amy, his high school sweetheart.
"I had a three-day leave from the Marines to get married. We got married in Encampment, Wyo., (where Rae spent his last few years of high school and Amy grew up). On the drive to Camp Pendleton, we stopped in Steamboat for one night. I really drug my wife through the mud," he said.
"But she stayed with me."
Now, 18 years later, the Raes have a permanent life in Steamboat. They used to have a house in North Routt that they built their first year here, but they decided to put it up for sale in search of something new.
"It's always fun selling your house and not knowing where you're going to live in July. That's nerve-racking," he said.
Rae has lived a lot of places.
He was born in Greeley and spent most of his life growing up outside La Salle, Calif. His father was a welder, and his mother worked at a U.S. port-of-entry. His parents divorced while he was young. His sister still lives in Greeley.
When he was a senior in high school, his family moved to Encampment, a place Rae refers to as "a very small town" and " a total culture shock setting."
He played football and wrestled, and decided that after graduation, he would become a Marine.
"I wasn't ready for college," he said.
That path led him to California where he often was deployed to the Philippines, Singapore and Indonesia.
"It was great," he said.
Rae served in Operations Desert Storm and Desert Shield in Saudi Arabia and Kuwait. Shortly after that assignment, Rae got out of the Marine Corps and came home, which forced him to find a new path.
"Serving your country for seven years really gets into your blood. I decided then I wanted to get into law enforcement. I hadn't been one of those kids that always dreamed of being a police officer, but at some point, you have to figure out what's going to be best for your family," he said.
Rae said he was hired as a police officer while America was on a "patriot high," which eventually led him to Louisville, the police department that put him through Boulder's police academy.
He worked with the Louisville Police Department for five years, helping women loosen wedding bands off their fingers and dealing with the not so pleasant side of police work, which included a tragic string of teen suicides.
Rae said it was important for him to get into law enforcement for the right reasons, including giving back the community you work in and being trustworthy.
One of the things he thinks about while dealing with a situation is what someone must be going through, because people usually only call the police in their darkest moments, he said.
"It's those very important or traumatic times in someone's life that they call the police. Whether we can find the bad guys or offer the family some closure, we try to make a difference and do the best job we can for that situation," he said.
Rae said he knows police officers generally get a bad rap in our society because they are the ones pulling people over and making arrests, but he said people often don't understand why officers do what they do.
"We enforce the law. That will never change. How we do that, does. An officer can choose to be friendly and explain to someone what is going on. Those are the steps that make a difference," he said.