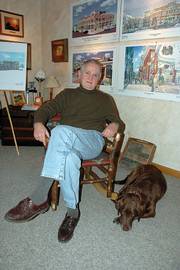 Some people who know Jim Cook will tell you that he is a brilliant, creative, motivating and visionary man.
They will also tell you that he is misunderstood.
Cook, 63, is a real estate agent and a developer. He is well known for his latest development projects, which are built around his extensive vision for Steamboat Springs' downtown.
Those developments have raised the interest and the ire of the community. One project, if built, would result in the demolition of a mobile home park. Another would tear down a hotel that some say is historic.
Controversy is just part of the job, say those who have worked with Cook.
Jill Brabec, an attorney, said Cook has gotten a "bad rap."
"That's the nature of the business. Development sometimes rubs people wrong," Brabec said. "There will be different sides to these issues."
Brabec views Cook as a team-oriented worker who sees the big picture in development.
"He's really trying to pull the pieces together and kind of get creative in his thinking about how a project's going to fit with a surrounding community," Brabec said. "I really admire that, and I don't think a lot of developers do that."
Cook works with his son, Coleman, who is a broker, too. Coleman said people often don't see that his father's ultimate goal is to revitalize the downtown area.
"I just don't think that many people understand who Jim Cook is and what he's all about," Coleman said.
Coleman said he doesn't attend the meetings during which his father presents projects. During recent meetings, Jim has been the subject of personal attacks; he doesn't respond to them.
"He handles it probably better than anyone I know. It's a tough thing that he does, and he puts himself in that spotlight," Coleman said.
Jim Cook brought his son into the business; they founded Colorado Group Realty together. Coleman said he has grown tremendously as a broker under his father, who acted as his teacher.
"He certainly was my stepping stone into the business, and I'll always be grateful for that," Coleman said.
Randall Hannaway works with the Cooks. When Jim talked to Hannaway about joining the group, Hannaway wasn't sure he was interested.
However, when Hannaway observed Jim's relationships with his son and his wife, Sheila, he knew Cook was a great man.
Sheila, who died in October 2004, had multiple sclerosis and breast cancer. Cook was her primary caretaker; Hannaway would see him leaving his office several times a day to help her.
"Not a lot of people do that to that degree," Hannaway said.
Cook's effort to take care of his wife is what impresses his son the most.
"Looking at my father, where I have the most respect for him is what he had to do and deal with, what he had to take care of on a daily basis," Coleman said. "I don't know that I could do what he did. ... I don't know that many of us could handle that."
Even when he was a caretaker, Cook put in full days at the office. That work ethic has remained; he is often the first to show up at work, Hannaway said.
Cook's ethic may be based on his love of his work, which he says feels more like a hobby than a job.
Cook has been in the real estate business since 1967, when he started out in South Bend, Ind., which was booming at the time. Cook was a partner at a firm where the brokers were proud of the 1938 Rolls Royce they used to transport and woo clients.
Cook is a long way from South Bend now. He has a quiet, calmly lit office on the second floor of Colorado Group Realty's Lincoln Avenue building. On Cook's wall behind his desk are several pictures of his daughter's child, Sheila, who was named after his wife. Resting on the floor, ready to defend the office, is his chocolate Labrador retriever, Maggie. She was named after the Rod Stewart song, "Maggie May."
Cook keeps rolls and rolls of plans by his desk's side and displays renderings of two of his latest projects - Riverwalk and Howelsen Place - on his walls.
Cook, who says he has been a "closet artist" all his life, sees these developments as a form of art.
"I love to see a finished project when it's up, seeing the interactive nature of people using the buildings," he said.
One reason Cook came to Steamboat, he said, is that the city is in the "embryonic stage" of developing community art. Cook envisions a Steamboat with a downtown peanut gallery, a collection of Western and contemporary art and other community art. His projects reflect that vision, and he has gone so far as to include a transfer tax within some proposals as a way to fund public art and art education.
Cook has done metal sculptures, and he was once in a band. In his free time, Cook also gardens and golfs.
Despite his passion for development, Cook considers himself to be a Realtor first. Cook's dedication to being a broker is evident in his clients' response to his work. He is godfather to six of his clients' children. And the first couple he sold a home to still send him cards every Christmas.
Being a Realtor, he said, is being a part of a family's life - and he likes that.
"Buying a home," he said, "comes second only to having children."