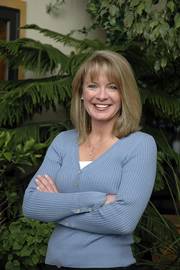 Only someone like Debby Curd could take the idea of auctioning off bras and turn it into one of Steamboat's biggest parties that raises thousands of dollars for local women suffering from breast cancer.
Curd has never had breast cancer, but the premature death of her good friend and fellow dancer, Amy Tumminello, inspired her to create the Yampa Valley Breast Cancer Awareness Project.
"It's important to her because of Amy and other women," said Carolyn Arithson, a breast cancer survivor and friend who serves on the cancer awareness committee.
The organization provides financial support to people who have cancer and also helps women get mammograms.
"It was a good thing, and it was being done by someone who genuinely wanted to help the women of Steamboat," said Linda LeBallister, who used to work for Curd.
In the Bust of Steamboat auction, local businesses sponsor bras that designers use to create a work of art. The bras are then auctioned. Last year, the event raised $31,000. A mosaic photo sold for $3,000.
"What she has done has really turned something very sad and tragic into something that has really helped a lot of people," said Cathy Sears, a breast cancer survivor who also helps organize the bra auction.
Deb grew up near Chicago before moving to Arizona and attended dance school at a community college. When she was 19, she went in search of her dream to become a professional dancer. And there is no better place to make your way into the business than Los Angeles.
"I came from a small town in the Midwest, and there I was, in Hollywood," Deb said.
She likes to say she got her degree in street sense. "A little Midwestern girl grew up fast in L.A.," she said.
She shared a studio apartment with another girl, waited tables, danced and took classes.
She thought she wanted to dance professionally in plays and commercials, but after a year, she decided that was not what life had planned for her.
"After a year in L.A., I was like, 'Maybe not.' I thought about going to New York," she said. "I think every dancer dreams of performing on Broadway in a big musical."
Deb waved goodbye to her Broadway dream when she left L.A. and moved back to Phoenix, but she found out what she was really good at. She landed a job in sales.
It also put her in a good position to meet her future husband, Jim, who asked her out during a sales call. She moved to California with Jim and they had two children, Nicci and Kimmi.
Deb and her husband moved to Steamboat almost by accident in 1992. They knew they didn't want to raise a family in California, and Jim got a job in Steamboat.
"At the time I was like 'I don't know, Steamboat is kind of remote,'" Deb said. She said she would give it a year, and has been here since.
Deb did sales for KFMU and moved on to become a sales manager for cable TV advertisements. She hosted and produced Discover Steamboat and Local Portraits, which profiled the lives of breast cancer survivors.
She now works at Comcast selling cable TV and Internet service and has served on the board of the United Way.
"It was really inspiring that she took over some of these volunteer efforts," LeBallister said.
And although she gave up her dream of being a professional dancer, she has found her dance niche in Steamboat through the Steamboat Dance Theatre.
"I was in the health center, and this girl said there is a dance concert and the auditions are coming up, so I went," she said.
Deb has been involved with the dance group for more than 10 years. At this year's show, she helped choreograph and danced in the piece, "Ms. Hilton," a parody of the rich-girl lifestyle.
Her daughter Nicci, 17, will be graduating from high school this spring and said her mother always says yes to everything because she gets her own joy from helping others.
"She's not rich, she doesn't have a lot of luxuries, but she is so happy with what she has," Nicci said. "She wouldn't trade it for the world."
Nicci shares her mother's teen aspirations. She plans to move to L.A. and become a star - as a singer.
"Now I know how my mom felt," Deb said.