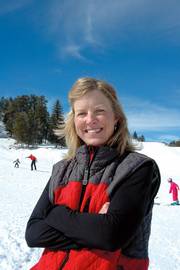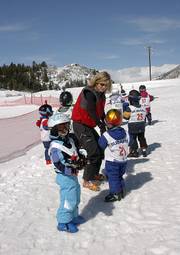 Blair Seymour was supposed to leave Steamboat Springs in 1993 - one year after she arrived to teach skiing.
"I was going to go to a ski resort and work for a winter," she said "I just was going to take one year off between college and something."
Seymour has found her something.
The former figure skater from Rochester, Minn., is a wife, mother of three young boys and the Alpine youth program director with the Steamboat Springs Winter Sports Club.
"She has a great love of kids," said Rick DeVos, executive director of the Winter Sports Club. "Blair is in charge of an area that's critical to the youth in the community. Those are our development programs. With all four disciplines - Alpine, freestyle, snowboard and Nordic - 95 percent of the athletes come through the Alpine feeder system."
In other words, she has taught a generation of Routt County athletes how to ride up the Poma lift at Howelsen Hill. The Poma lift is the disc-like lift that pulls skiers to the top of the ski jumps.
"I love seeing the improvement," Blair said. "When you can take a kid and get them up the Poma lift by themselves, that is a milestone in a Steamboat kid's skiing. It truly is. When they can make it all the way to the top and ski down Mile Run by themselves and go over those jumps and giggle the whole way down, it's hysterical.
"Then you get the older kids, where you've taken them from nothing and all of a sudden, they are ripping through gates. You are like, 'Oh my gosh.'"
Seymour oversees nine Winter Sports Club programs ranging from Tiny Toots for skiers as young as 3 to Mountain Challenge, a non-competitive program for skiers 10 to 14. She hires and helps train upwards of 50 coaches for the programs.
"In the current job, she keeps all the parents and coaches headed in the right direction," said her husband, John. "She is the person who keeps everyone so informed. She has, I feel like, really improved the level of service at the club. The program has grown so much."
More than half of those noncompetitive coaches are volunteers, who deliver a hard lesson in patience every time they run up Howelsen Hill in their ski boots to help a 5-year-old who fell down while learning to turn.
"I love working with those little guys because they are so adorable," Blair said. "They are just precious little things. They are so funny - the things they say to you."
Blair's entertainment doesn't end at the Winter Sports Club. With three young boys - Jett, 7, and identical twins Trey and Chase, 5 - the craziness for her and John continues at home.
"It's probably just better I have all boys," she said, while Trey and Chase took off their ski helmets, revealing piles of blond hair and matching smiles. "We go camping, hiking or biking. Even when they were teeny little things we threw them in backpacks and were out. We knew they would just love it. I think one of their favorite things for the longest time was going down to the river and throwing rocks in. They could, and John, too, sit there for hours."
Patience is something Blair said she has developed in her 14-year career working with children at the Winter Sports Club and at Kids Adventure Club. It also came in handy when she first met John, who moved to Steamboat in 1976 to teach skiing.
Each shared the story of how they first met. They tell the story at separate times and apart from each other, but they use the same words and phrases.
"She was someone I really enjoyed talking to," John said. "What was really cool was we got to be pretty good friends, which was a first for me."
"He was just a really good skier," Blair said. "He said, 'We can go skiing as long as we don't talk about skiing. We can talk about anything else.' We would get in these deep, wild conversations on the chair lift."
On the gondola, a friend of Blair's planted a seed in John's head about the possibility they could be more than friends. It was nearly a year after they met.
"I was teaching someone, and it hit me all of a sudden, like a ton of bricks 'Blair and I more than friends?'" John said. "It was like a lightning bolt coming down from Storm Peak."
Blair was working part-time for John at West End Liquor, which he has owned for 13 years, when she invited him to go to a ski school party "just as friends."
"At the dance we kissed and we're like, 'What just happened? What were we thinking?" Blair said.
John proposed in Moab, Utah, and the couple was married in 1996.
"When I first moved here, I thought I would be here one year, then 10 years," Blair said. "It's such a great place to raise kids. It's really great for boys, especially. How cool would it be to grow up here? It would be a dream."