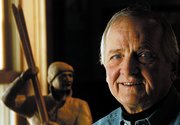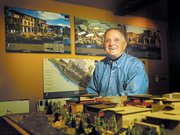 The year that was
2006 was a year of excesses in Routt County. The past 12 months have yielded record sales tax revenues for the city of Steamboat, booming growth in Stagecoach, more than 430 inches of snowfall at Steamboat Ski Area, and unprecedented amounts of construction and building permits across the county. Here's a quick list of news and newsmakers from the past 365.
February: At least 12 athletes with Steamboat ties compete in the 2006 Winter Olympics in Turin, Italy.
April: Shortly after Steamboat Ski Area closed for the season, maintenance crews and loggers began cutting down about 1,500 pine trees to combat a bark beetle infestation that continued to spread across Colorado and much of the American West.
May 18: Wildhorse 6 Stadium Cinemas opened its doors, bringing Steamboat a new movie theater with amenities including large screens and plush, stadium-style seats.
July 4: An estimated 15,000 participants in a gathering of the Rainbow Family of Living light celebrate the Fourth of July on National Forest land near Big Red Park in North Routt County.
Aug. 8: Garrett Wiggins defeats Ray Birch in a primary election for the Republican nomination for Routt County Sheriff. Wiggins would lose the Nov. 7 general election to Wall before accepting a leadership position with the Greater Routt and Moffat Narcotics Enforcement Team, or GRAMNET. Birch would become the new Hayden Police Chief.
Sept. 6: Giles Charle and David Siller were released from the Routt County Jail after the District Attorney's Office reduced their six-month jail sentences to 10 days time served. Charle, 24, and Siller, 27, pleaded guilty to misdemeanor trespass for allegedly stealing food from the Sweet Pea Produce store on Yampa Street. Public outcry played a significant role in the reduced sentence.
Oct. 13: Kathy "Cargo" Rodeman resigns after more than four years as Oak Creek's mayor.
Nov. 7: Steamboat voters approve a nearly $30 million bond issue for a new school to replace the aging Soda Creek Elementary School and expansions to Strawberry Park Elementary School.
Nov. 7: Routt County was no exception to the tidal wave of Democratic victories in elections across the country. Gary Wall became Routt County's next sheriff, Diane Mitsch Bush won a Routt County commissioner seat, and Mike Kerrigan won the Routt County assessor job. All three Democrats will replace outgoing Republicans Jan. 9.
Nov. 28: J. Elliott becomes Oak Creek's new mayor, following a 4-1 vote of the Oak Creek Town Board. The board chose Elliott over Rodeman, who had asked for her job back.
Dec. 19: American Skiing Co. CEO B.J. Fair announced that Intrawest ULC has agreed to buy the Steamboat Ski Area and related assets for $265 million, potentially ending ASC's 10-year run as the ski area's owner.
Steamboat Springs — Seeing Jim Cook's impact on Steamboat Springs is as easy as taking a walk downtown.
Cook, a principal partner with Colorado Group Realty, is leading development of three large-scale building projects downtown and has plans or is involved in several other projects that will change the face of Steamboat for years to come. In 2006, demolition of the Harbor Hotel, Nite's Rest Motel and Westland Mobile Home Park - and related city approval of the downtown Howelsen Place and Alpenglow buildings, with final approval of the multi-building Riverwalk project possible in early 2007 - all point to widespread changes that will give a new look to Old Town Steamboat. They also indelibly will stamp Cook's mark on the city he has called home since 1991.
At a time of unprecedented growth throughout Routt County, Cook is
leading the charge with an innovative and often criticized vision for downtown Steamboat. That vision, and the work already under way to create it, make Cook the Steamboat Pilot & Today's choice for 2006 Newsmaker of the Year.
"He should be," Main Street Steamboat Springs Director Tracy Barnett said of the distinction. "I think what he's doing will make the most dramatic change in all of Steamboat Springs. He's changing the vocabulary of how people are defining downtown."
Singular focus
Barnett has a front-row seat for Cook's daily efforts to reshape Steamboat's skyline. She works in an office Cook donated to Main Street, just down the hall from Cook's desk in Colorado Group Realty's small, renovated building on the riverside of Yampa Street.
"I think he has a singular focus on what should happen down here his heart is down here," Barnett said. "His vision is to create a real arts-and-entertainment district along Yampa."
The walls of the Colorado Group Realty office are covered with artistic renderings of Howelsen Place, Alpenglow, and the mixed-use Sundance North Village project on Anglers Drive. A model of Riverwalk sits beneath a glass case. Prelim-inary designs for the 10-building project, arguably Cook's flagship development, show multi-colored, upper-story residences over small commercial stores with frontage on public walkways and parks along the Yampa River.
More plans
Cook said Colorado Group Realty also has plans to redevelop three other Yampa Street properties, including the current homes of Sunpie's Bistro and the Hell's Wall ski shop. On Lincoln Avenue, Cook is involved in discussions about future renovations of the Go-Fer Foods store and the Chief Plaza Theater.
"We want it to be a quasi-artisan community," Cook, 64, said of Riverwalk. "That's what cities are all about - people of all walks of life and income levels. In the next three to five years, downtown Steamboat can become one of the most exciting places to live and work anywhere."
'He gets it'
The Harbor Hotel opened at the corner of Seventh Street and Lincoln Avenue in 1940. Crews began demolition of the building Nov. 6, to make way for the 85,000-square-foot Howelsen Place.
"I will forever lament the loss of Harbor Hotel, as I do the loss of any significant historic resource," said Steamboat Springs City Council member Towny Anderson, who dedicated his professional career to preservation work. "I've had enough experience with historic preservation to know that restoration of that property could never have happened without a public-private partnership. That said, I applaud Jim Cook for his understanding of the value of downtowns. He gets it."
Anderson said Friday he is "cautiously optimistic" that the transformations led by Cook will lead to "a stronger downtown and a stronger sense of community."
Cooktown USA?
Some recent comments from the public have not shared Anderson's optimism.
"I miss those funky old buildings - the Nite's Rest and the Harbor Hotel. They were part of Steamboat's unique personality," Steamboat resident Betty Leipold wrote in a Dec. 10 letter to the Pilot & Today. "I fear that what's proposed for those spaces will detract rather than add to Steamboat's quaintness : Will we be living in 'Cooktown USA' in the future?"
An anonymous Dec. 24 "Sound-Off" to the newspaper picked up the "Cooktown" phrase.
"Downtown needed to be revitalized, but it seems like we've overdone it with saturating downtown with loft and retail edifices. We are doomed to chaos with increased congestion and traffic. What happened to the small-town atmosphere we were trying to preserve? It seems that we have in fact become Cooktown, USA," the note read.
Thick skin
City officials say the criticism is unwarranted.
Cook "gets kind of a hard time, but his heart is in the right place," said Tom Leeson, the city's director of planning services. "He is committed to downtown. The projects he's doing will have a tremendous positive impact."
"It's disheartening to lose our historical structures, but it's exciting to see new things," City Manager Alan Lanning said of Cook's projects.
"There's always mistrust of developers, but I don't think he's out to destroy the community at all," Barnett said. "I think he's planning to take us forward in a direction that we will all appreciate in the future. And Jim's got a really thick skin. He's been around long enough where he can take it on the chin, because he has a vision."
That vision is here to stay.
"The developer permit was the primary hurdle," Cook said of Riverwalk, a project that will be built in phases, pending final city approval. "We want to start doing infrastructure in the summer."
- To reach Mike Lawrence, call 871-4203
or e-mail mlawrence@steamboatpilot.com